You'll Swear You See A Dragon In The First 'Pete's Dragon' Poster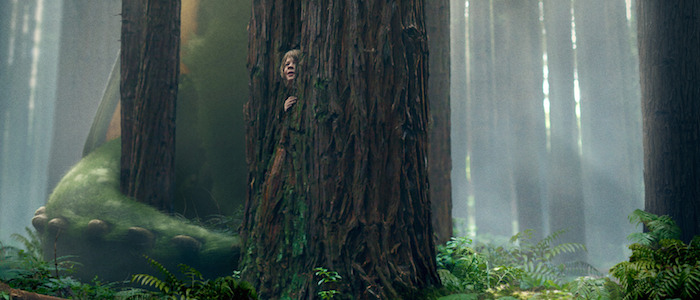 Disney has found tremendous success in these past few years by revisiting and "re-imagining" some their most beloved and iconic films as modern blockbusters, much to the chagrin of some purists. However, Pete's Dragon is the exact kind of movie that should be remade – the original 1977 film, while it has a few charming moments here and there, is no classic. In other words, there's nothing wrong with taking another stab at this story.
And there is certainly promise in the tale of a young boy who befriends an invisible (imaginary?) dragon. And there is certainly promise in handing this material to a director like David Lowery, who is a left field choice for a family movie. The first trailer for new Pete's Dragon is a few days away, but the first poster has dropped, giving us our first tease of this new film.
Our first real look at Pete's Dragon arrived at last year's D23 Expo, which teased a few minutes of footage and revealed that the film would be set "against the backdrop of loggers cutting down a forest." The remake will also not be a musical. The new press release sticks to the barebones details when describing the film's plots:
...a reimagining of the studio's cherished family film about the adventures of a boy named Pete and his best friend Elliott, who just so happens to be a dragon.
There are two versions of the poster available to examine. First up is the motion poster, which is identical to the physical one-sheet aside from some very simplistic animation. The full poster can be viewed below.
Lowery is best known for directing the R-rated crime drama Ain't Them Bodies Saints, which makes him a unique choice for a family adventure about an orphan and his dragon buddy. However, hiring outside-the-box directors seems to be Disney's new thing since they've also hired Listen Up, Philip director Alex Ross Perry to make a new Winnie the Pooh.
In any case, Lowery has assembled a strong cast for his Pete's Dragon, including Robert Redford, Bryce Dallas Howard, Karl Urban, and Wes Bentley. The young, relative newcomer Oakes Fegley plays Pete. A bunch of pixels lovely assembled by a special effects team plays his dragon. 
Pete's Dragon opens on August 12, 2016. The first teaser for the film is set to arrive this Sunday during ABC's Wonderful World of Disney: Disneyland 60 special, which airs at 8:00PM EST. You can check out the full poster below.