The Force Awakens Bits: An Iconic Duel Was Reshot, Domhnall Gleeson On General Hux, And Filling In That Poe Dameron Plot Hole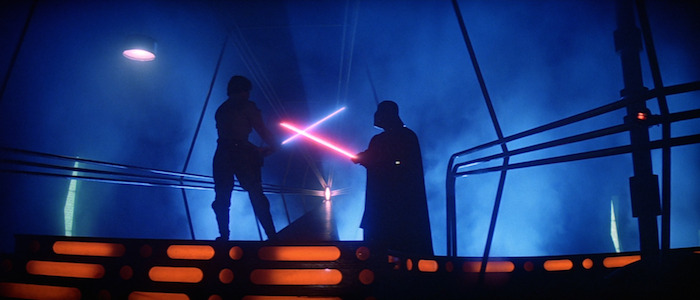 Another day, another collection of Star Wars: The Force Awakens news stories in bite-sized form! In today's edition of The Force Awakens Bits:
An iconic lightsaber duel was apparently reshot (and abandoned) for The Force Awakens.
Domhnall Gleeson talks about General Hux.
Gwendoline Christie explains why Captain Phasma never takes her helmet off.
The Oscar-nominated editors talk about working with J.J. Abrams.
Some absurd LEGO recreations of Finn, Poe, and Captain Phasma.
Another look at LEGO Star Wars: The Force Awakens.
The Force Awakens is coming to Star Wars: Battle Pod.
Just how did Poe Dameron get off Jakku anyway?
Fans have already debated and thoroughly picked apart Rey's big flashback sequence in The Force Awakens, but it turns out that there was almost more for us to chew on. Making Star Wars reports that the sequence originally contained shots of Luke Skywalker's duel with Darth Vader in Cloud City as seen from Rey's perspective. And now, a new children's novel told from Rey's perspective actually contains the deleted moment:
As she peered into the distance, she saw a man in black wielding a red Lightsaber. His face was covered with a mask, molded to approximate a human face. But the mask's eyes were dead and empty. The man's red Lightsaber clashed against a brilliant beam of blue. A young man with blond hair raised his own Lightsaber and fought furiously against the monster in black.
Making Star Wars believes this scene was actually shot (a "Young Original Warrior" was cast), but will we actually get to see it? I would guess no, but you never know what will resurface when the subject is as popular as Star Wars.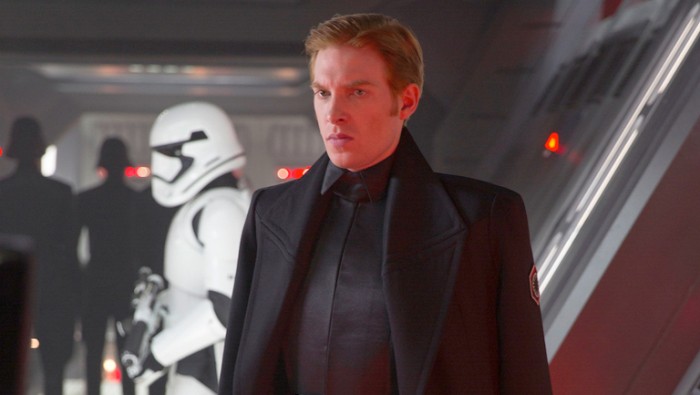 Domhnall Gleeson had one hell of a 2015, appearing in The Force Awakens, Ex Machina, and The Revenant. The exciting young actor sat down with the LA Times and, naturally, he chatted about General Hux and how his physical appearance informs his motivations:
I liked him because he allowed me to explore the notion of authority — he's someone who enjoys authority and holds onto it at all costs. The costume was brilliant and added a whole other layer for me. We talked about the idea that he's an obsessive and probably doesn't sleep much. So he was pale with dark eyes. We wanted him to look like somebody who was dead set on one thing.
Hux didn't get too much to do in The Force Awakens, but it's easy to imagine that changing in Episode 8. You don't hire an actor like Gleeson and then just let him stand around in the background.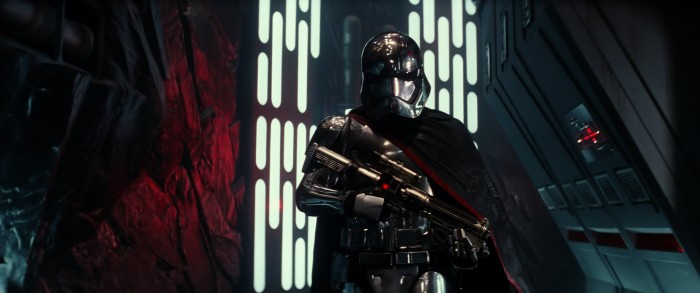 Speaking of characters who will hopefully have more to do in Episode 8, Entertainment Weekly caught up with Gwendoline Christie and asked about why Captain Phasma remains under amor for the entirety of The Force Awakens. Her answer is thoughtful and detailed:
I thought it was a really interesting opportunity because as an actor I'm interested in transformation and different kinds of roles. What's the role about? Who is the character? What does the character mean in the function of a project or story? I thought it was a really interesting opportunity to play a female character where we formed an opinion of her based on her actions rather than the way she has been made flesh. And that concept within a Star Wars movie, a mainstream phenomenon, was very modern and interesting and exciting. I made no secret of the fact I wanted to be in the film, I campaigned hard to be in the film, but to be in it as that kind of character – she's a woman, she's in armor, the armor isn't sexualized, and in the film we don't see the actor's face – I thought that was an exciting, modern concept. And obviously, I'm delighted to be in another film [Episode VIII].
Will we get to see Christie's face in Episode 8? Or will Phasma continue to do the Boba Fett thing and keep her face hidden until the very end? My personal fan fiction sees her on the run and disgraced after being forced to turn the shields down in The Force Awakens, a role that would require Christie to take her helmet off every now and again. We'll just have to wait and see.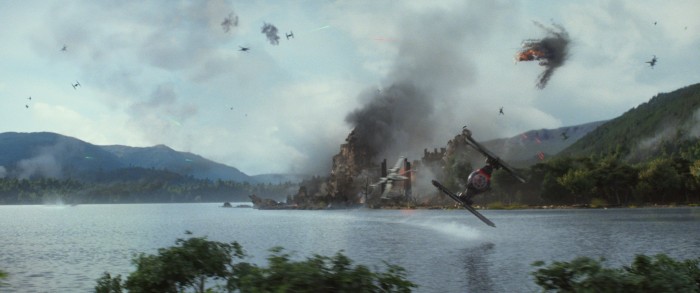 The Hollywood Reporter sat down with this year's Oscar-nominated editors to discuss how they collaborated with their directors. Naturally, this meant a few quotes from The Force Awakens editors Maryann Brandon and Mary Jo Markey. Markey says:
J.J. is a true collaborator, and he's interested in what the editor thinks. When we are working on a scene, we make a lot of decisions together.
And here's Brandon:
I think that the secret of [Star Wars] is that you relate to these characters. It's a story that you are engaged in and emotions that you are familiar with.
If you want some additional reading on the film's post-production process, Variety has an article about how visual effects were utilized during the final duel between Kylo Ren and Rey.
LEGO unveiled a slew of new Star Wars-themed sets at the New York Toy Fair, which you can check out in the video above. But more importantly, their booth also showed off life-size LEGO recreations of Finn, Poe Dameron, and Captain Phasma, which is the exact kind of ambitious insanity that I appreciate.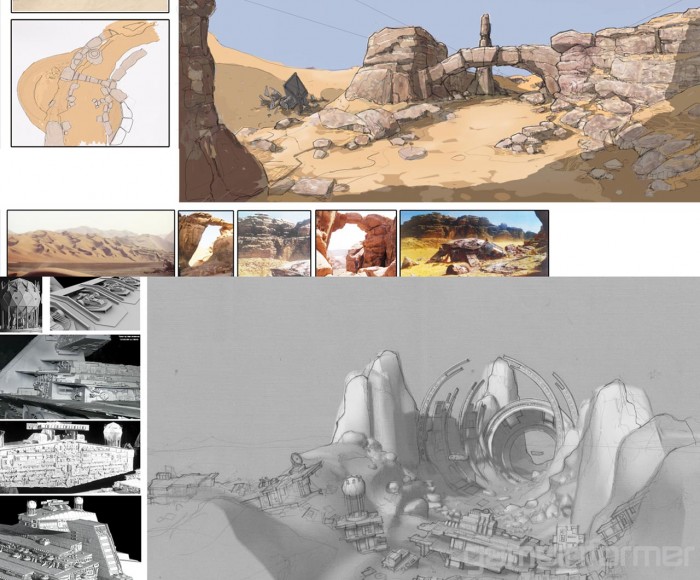 Game Informer has continued to release snippets from their cover story on LEGO Star Wars: The Force Awakens. In addition to revealing some new concept art and early renderings (see above), they spoke to Lead Designer Josh Pickering Pick on what it was like to build the game's Jakku level:
I think this one just works really well.  It's nice and varied, you get to slide down this section here, and then you land into this arena area where you have some gameplay, then you move into the hangar as well. It's destroyed and darker inside. For one level it's got quite a few unique areas visually, which is always a challenge.
If you've been to an up-to-date video game arcade recently chances are strong that you've seen Star Wars: Battle Pod, a state-of-the-art combination of arcade shooter and simulator that places you directly into several conflicts from the original Star Wars trilogy. Now, the game is getting an update. The Battle of Takodana is coming to Battle Pod in May, allowing players to recreate the dogfight between the Resistance and the First Order in the sky over Maz Kanata's castle.
One of the biggest unanswered questions in The Force Awakens revolves around Poe Dameron survived that TIE Fighter crash and got off Jakku, especially since he managed to get back to the Resistance before the other heroes could get to Maz Kanata. Thankfully, Star Wars Minute has the answer to this question for those of us who haven't had the chance to dive into every piece of supplementary material out there.