The Return Of 'Ghostbusters' Ecto Cooler Seemingly Confirmed With A New Can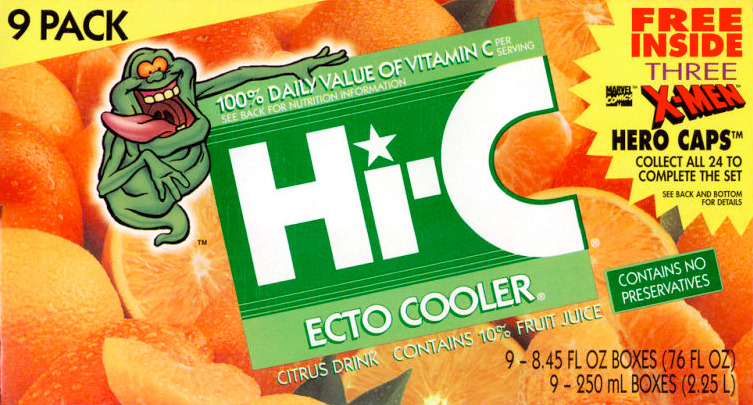 Last November, we got word that Coca-Cola had re-registered the trademark for Ecto-Cooler, the Ghostbusters themed juice drink that was popular in the 80s and '90s. There was no guarantee that the soft drink company would bring back the flavor that Ghostbusters fans have wanted back on shelves for years, but with a new Ghostbutsters movie on the way this summer, a nostalgic cash grab just made sense.
Now we seem to have confirmation of the drink's impending return, as a sample can has made its way online in an eBay auction. And if you're skeptical that it might be a fake, there's a few reasons that it seems to be legitimate. Find out more about Ecto Cooler coming back tomorrow.
Here are a couple images of the Ecto Cooler can that's up for sale on eBay now (via Distractify):
/Film reader @PoLISHPHENoM first sent us this image before we got a little more information on the listing, which seems to be a test can that hasn't been filled with juice or anything. Making it seem legitimate is the updated nutritional facts chart to account for the can size, which has a little more juice that the usual juice box from back in the day. Plus, the top of the can saying "Ghostbusters: Only in Theaters" adds some more credence to it as well.
For all the purists out there who might be upset that we won't be getting any juice box versions of Ecto Cooler, it seems like we'll be getting those back too. A test box of Ecto Cooler has been revealed over at the Resurrect Ecto Cooler Facebook page, though it doesn't have any box art or anything like that.
Speaking of which, the major difference between the new Ecto Cooler and the old one seems to be a lack of Slimer. And since we don't really know if the green ghost will be in the movie or not, and he hasn't been in a movie or cartoon series, not including him in the artwork kinda makes sense.