Roger Corman's 'Death Race 2050' Will Plow Into A Group Of Pedestrians Near You Later This Year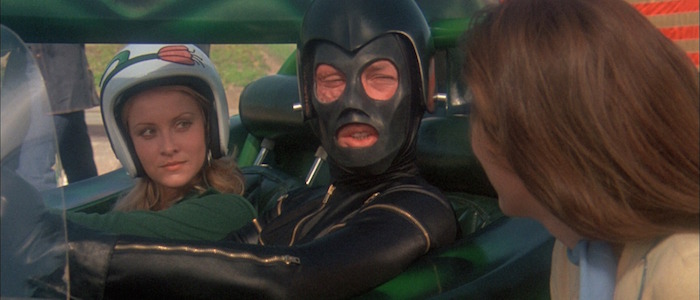 The most terrifying thing about 1975's Death Race 2000 is that its cartoonish satire has only grown more plausible over the years. Set in a dystopian future where culture revolves around a cross-country race where the murder of other drivers and innocent pedestrians is encouraged, it's a trash masterpiece, a slapstick scream from the depths of '70s America.
The 2008 remake, simply titled Death Race, was passably entertaining junk that removed the original's razor sharp edges. But now, the film is being remade again as Death Race 2050 and it's bringing a cinematic icon along for the ride: original producer and B-movie legend Roger Corman.
Universal has announced that principal photography on Roger Corman's Death Race 2050 (yep, that's the full title) has begun in Peru. Malcolm McDowell will headline the cast as "the Chairman," which certainly sounds like a fill-in for the original's "Mr. President." Manu Bennett, the hulking New Zealand actor who has put delivered strong work in Spartacus and Arrow, will play "Frankenstein," the anti-hero previously portrayed by David Carradine and Jason Statham. The rest of the cast includes Burt Grinstead, Marci Miller, Folake Olowofoyeku, Anessa Ramsey, Yancy Butler and Charlie Farrell. G.J. Echternkamp, best known for the 2005 thriller Hard Candy, is directing. As the title implies, Corman himself is producing alongside Luis Llosa.
The bad news is that this is a direct-to-video film that will be available on Blu-ray and and VOD and the other usual suspects sometime this year. That's...not the best of signs. However, the good news is that the official synopsis makes this sound like a proper Death Race movie:
In the not-too-distant future, America is controlled by an all-powerful corporate government that keeps the masses placated with violent virtual-reality entertainment. The event of the year is the Death Race, where a motley assortment of drivers compete in a cross-country road race, scoring points for running down pedestrians and killing each other. The reigning champion and popular favorite is half-man, half-machine Frankenstein — but little does he know he's taken on a rebel spy as his co-pilot.
Since the first remake was set entirely within a maximum security prison, the outlandish and bloody satire was drained away. The resulting film was fine, but it's just junk. Death Race 2000 is junk with a purpose and its broad satire feels more relevant than ever. The fact that I'm writing this while reading tweets about Donald Trump arguing with the Pope suggests that the outlandish world that Corman and director Paul Bartel created more than 40 years ago may yet come to pass. Since this is a smaller scale DTV  film, maybe Echternkamp will be allowed to get away with material that wouldn't fly in a more expensive theatrical release.
However, the real news here is Corman's direct involvement. A working producer and director since the '50s, Corman has long been known as a B-movie king and a master of schlock, but that ignores that many of his B-movies and much of his schlock (especially the films he actually directed) are damn good example of how to make a satisfying low-budget film. Directors as varied as James Cameron and Martin Scorsese worked under him before they became huge names.
Here is Corman's quote about Death Race 2050:
"This is an amazing opportunity for me and millions of Death Race 2000 fans to experience the intensity, thrills and dark humor of the original, fueled by a terrific young cast, spectacular vehicles and side-splitting action, literally. Roger Corman's Death Race 2050 puts the pedal to the metal to bring this enduring franchise to a whole new level."
There is no exact release date set for Death Race 2050, but it will be available this year.