'Blade Runner 2' Officially Sets A 2018 Release Date; All Of Your Theories To Become Lost In Time, Like Tears In Rain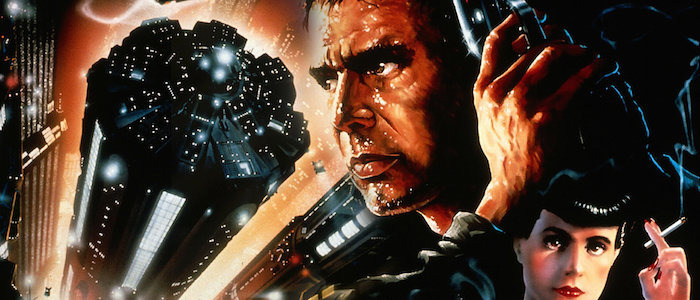 It's happening. After years of false starts and years of film fans shrugging it off as something would never actually get off the ground, the sequel to Blade Runner is officially set to begin filming this year for a 2018 release date. Harrison Ford is back. Original director Ridley Scott is an executive producer. There's a press release and everything. Blade Runner 2 is real...and it would feel so wrong if there wasn't so much interesting talent attached to the project.
Blade Runner 2 will begin filming this July and will be released on January 12, 2018. Picking that day almost two years in advance feels like a real statement – it's Warner Bros. and Sony (who is disturbing the film outside of the American market) holding tight to the common belief that the early months of the year don't have to be dumping grounds anymore. It could be an ideal space for Blade Runner 2, which, if it's anything like its predecessor, will be a bit more complex and challenging than typical summer movie fare. It deserves a chillier, more isolated month.
The press release also confirms what we already knew: Ryan Gosling will star alongside Ford (although the nature of his role remains unknown), Prisoners and Sicario director Denis Villeneuve will helm the film, and legendary cinematographer Roger Deakins will shoot it. Story details remain unknown, but Hampton Fancher (who co-wrote the original film) and Michael Green wrote the screenplay, which will take place several decades after the events of the first film, which took place in the futuristic world of 2019 Los Angeles.
Notably, the press release never refers to the film as Blade Runner 2, which means that we'll be hearing a new title announced soon enough.
If you've somehow managed to not see the first film (and you should rectify that ASAP), it starred Ford as Rick Deckard, a "Blade Runner" tasked with hunting down rogue androids in a perpetually rainy, noir-tinted future lit by neon and stained with pollution. It's a masterpiece, a film that was open to several interpretations that still have fans arguing to this day. The major downside to a sequel is that it may try to give a definitive answer to those questions and ruin all of the fun. Scott has made it very clear what his interpretation of the film is decades later and let's just say that some of us think he's completely wrong about his own movie.
Then again, how can we say no to Villeneuve and Deakins getting the chance to play in this classic science fiction sandbox. You can read the full press release below:
Alcon Entertainment's sequel to Ridley Scott's 1982 masterpiece BLADE RUNNER, to star Ryan Gosling and Harrison Ford (reprising his role as Rick Deckard), and to be directed by Denis Villeneuve (Sciario, Prisoners), will be released by Warner Bros. in North America on January 12, 2018, it was announced by Alcon co-founders and co-CEO's Andrew Kosove and Broderick Johnson.
Sony Pictures Releasing International will distribute in all overseas territories in all media. 
The story, written by Hampton Fancher (co-writer of the original) and Michael Green and based on a story by Fancher and Ridley Scott, takes up several decades after the conclusion of the 1982 original.
Principal photography is scheduled to begin in July, 2016. Multi-Oscar nominated cinematographer Roger Deakins (Sicario, Prisoners) will reunite with Villeneuve on the project.  
Alcon Entertainment acquired the film, television and ancillary franchise rights to BLADE RUNNER in 2011 from the late producer Bud Yorkin and Cynthia Sikes Yorkin to produce prequels and sequels to the iconic science-fiction thriller. Cynthia Sikes Yorkin will produce along with Johnson and Kosove. Bud Yorkin will receive producer credit.
Ridley Scott will serve as Executive Producer. Frank Giustra and Tim Gamble, CEO's of Thunderbird Films, will also serve as executive producers along with Bill Carraro ("Terminator Genisys," "The Golden Compass").