Keira Knightley To Play 'Catherine The Great' For Director Barbra Streisand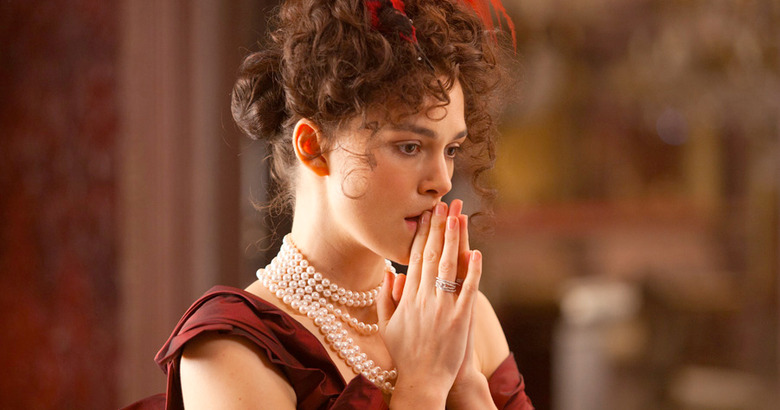 Last December, we got word that Barbra Streisand was considering a return to directing for the first time in 20 years, after helming The Mirror Has Two Faces in 1996. The project that was calling the singing icon and actress back behind the camera was Catherine the Great, a biopic about titular Russian empress. It appears Streisand has stuck with the project since then, and now Pride and Prejudice and Pirates of the Caribbean star Keira Knightley is in talks for the lead role.
The Wrap has the news of Keira Knightley as Catherine the Great, bringing her back to the period drama scene after previously getting Oscar nominations for her work in Pride and Prejudice and most recently, The Imitation Game.
For those not familiar with Catherine the Great, she was born to German royalty and came into power in Russia after becoming trapped in an abusive marriage to Peter III and taking action to usurp the power from the man who was quite the inept leader. She overthrew Peter III and ended up ruling Russia from 1762 to 1796, bringing about what historians called the Golden Age of the Russian Empire, founding many new cities and towns while also continuing to modernize the country.
The script for Catherine the Great comes from Kristina Lauren Anderson, and it came out at the top of the 2014 Black List previously. Back then, the project was situated at Atlas Entertainment, the outfit run by The Dark Knight producer Charles Roven, but now the project will be produced by Gil Netter (Life of Pi, The Blind Side) and his Netter Productions banner.
This is bound to be the kind of movie that vies for awards love, but you never know if a movie like this will be able to get that kind of acclaim and attention until it's done. Still, Streisand has amassed some impressive awards accolades with her films over the course of her film career, rounding up a total of five Oscar nominations (including two wins), as well as a Golden Globe for for directing Yentl.
As of now, we don't know when Catherine the Great might get off the ground, but it seems unlikely for the project to come together in order to make a run for any awards for 2016. But if the script is ready and negotiations come through quickly, then there's always a chance it could work out. Stay tuned to see what happens.