'Colonia' Trailer: Emma Watson Joins A Cult To Save Daniel Brühl And Of Course Nothing Goes Well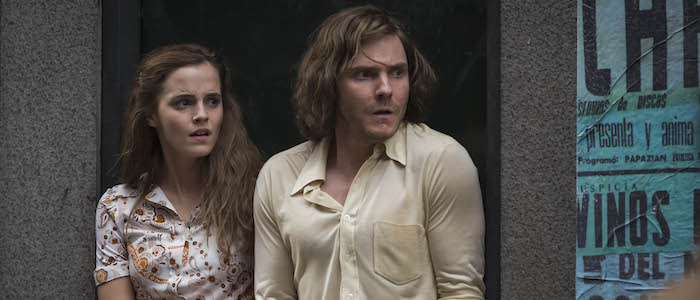 The current career choices of Emma Watson and Daniel Brühl deserve some consideration. She is an actress known around the globe for playing a lead character in one of the most popular film franchises of all time. He's the promising young star of Rush and Inglourious Basterds who will soon be paying his superhero dues as a villain in Captain America: Civil War. Both look to be straddling that fine line between being chasing movie stardom and doing good work in smaller films, carefully selecting projects and roles that won't pigeonhole them or reduce them to a type. These two are increasingly exciting performers because they're actively pushing themselves in new directions and genres, working under interesting filmmakers.
Colonia finds the two of them sharing the spotlight, playing a young couple who are find themselves trapped in a cult following a violent political revolution. More than anything, the new trailer for the film is a reminder that Watson and Brühl aren't slacking off with easy material. This looks intense and mean and the kind of thing that you need to help balance out the Harry Potter and the Marvel on your filmography.
Directed by Florian Gallenberger, who won an Academy Award for his short film Quiero ser (I want to be ...) back in 2001, Colonia takes place in Chile in 1973 when General Augusto Pinochet launched his infamous coup against the standing government. Brühl plays an artist who is imprisoned for creating art for the ousted president and Watson plays his girlfriend, who learns that he is being held by a dangerous religious cult stationed in the infamous Colonia Dignidad. Naturally, she infiltrates the cult to rescue him and of course things don't go well.
You'll note that Paul Schäfer, the real-life cult leader who serves as the antagonist of this film, is played by Michael Nyqvist, who has previously played villains in Hollywood movies like Mission Impossible – Ghost Protocol and John Wick. As much as I've enjoyed him playing broad, silly bad guys, it's nice to see his inherent menace being put to more serious-minded use.
Colonia made the festival rounds last year, earning mostly mixed reviews. This is the third trailer we've seen for this film (you can watch the other two here and here), but it's easily the most effective, selling a movie that looks to put its attractive young stars through all kinds of torment. Here is the official synopsis:
Chile, 1973. Lufthansa flight attendant Lena (Watson) is in Santiago to visit her boyfriend, Daniel (Brühl), a talented graphic artist creating images in support of embattled President Salvador Allende. When Allende is violently ousted, General Augusto Pinochet's forces begin rounding up dissidents. Daniel is taken to the remote stronghold of Colonia Dignidad ("Dignity Colony"), home to a secret agricultural commune and crypto-fascist sect led by sinister minister Paul Schäfer (Michael Nyqvist). Daniel is interrogated and tortured, but feigns severe mental deterioration to stay alive. Valiant and wily, Lena travels to Colonia and offers herself up to Schäfer as a follower. She is determined to find and free Daniel — but first she must ensure that she herself can survive Schäfer's crushingly oppressive, viciously misogynistic practices.
Colonia opens on April 15, 2016.