'Kingsman 2' Offers Julianne Moore The Chance To Play A Supervillain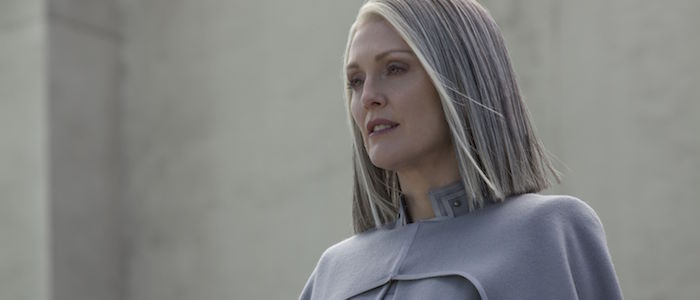 There are many joys to be experienced in Kingsman: The Secret Service, a film so bursting with color and energy that you can forgive the points where it stumbles and falls flat on its face. One of the highlights was the casting of Samuel L. Jackson as the bad guy, which saw the intimidating actor playing against type as a squeamish bleeding heart with a speech impediment who sets out to wipe out much of the human race as part of a wacko plan to save the world.
If that's how the first film utilized Jackson, then I can't wait to see how they want to utilize the great Julianne Moore, who is currently in negotiations to play the villain in the upcoming sequel. Moore is one of our finest actresses, a thespian of tremendous power and depth, so of course she deserves a shot at playing a villain in a lewd and ultra-violent spy movie.
The news of Moore's potential casting arrives our way courtesy of The Hollywood Reporter, who confirm that Moore is being sought for the villain role but have no other details. However, they do note that she hasn't quite signed on the dotted line – she's currently eyeing a few other projects, including a reunion with her Far From Heaven director Todd Haynes, so scheduling is an issue. Still, I hope this works out because the thought of the Kingsman series following Taron Egerton as he systemically takes down supervillains played by powerhouse actors sounds so very appealing.
Although we don't know much about the Kingsman 2 villain, Egerton did hype up the character a few weeks ago:
With Kingsman, we're shooting in the summer at present. There's a script, it's brilliant. Obviously there's only so much I can say but what I can say is that we shot [the first] one all in the U.K., that won't be the case with the next one. It's a far more international story, we're going to some incredible places, and we have a villain to rival Samuel L. Jackson—this new one is so brilliantly written I wish I could play it. It's amazing.
If she takes the job, this will be Moore's second stab at playing a villain in a major franchise, following her work as the treacherous President Coin in the final two Hunger Games movies. This also follows her Oscar win for Still Alice last year and let's face it: every Academy Award winner is allowed to pick a "fun" role after winning their statuette. It's their prerogative.
THR also confirms that Colin Firth will not be returning for the sequel, which shouldn't be too surprising considering what went down in Kingsman: The Secret Service. Yet, there were rumors of his Harry Hart somehow managing to make a return. However, director Matthew Vaughn has decided to not go in this direction and that's a good thing, as Firth's resurrection would retroactively diminish one of the first film's most harrowing moments.
Kingsman 2 will begin filming in a few months for a June 16, 2017 release.