Priyanka Chopra Will Menace Dwayne Johnson In 'Baywatch' (And Probably In Slow Motion)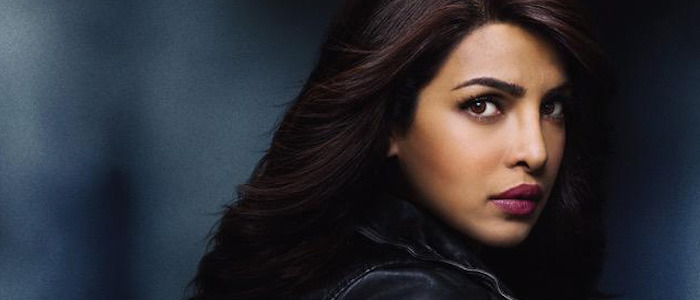 If you told us a year ago that I'd be interested in a Baywatch movie, I would have given you a serious case of side-eye before tracking down a more trustworthy person to engage in conversation. But here we are – I have no idea what a comedic take on this immensely popular (but oh-so-terrible) drama series starring Dwayne Johnson and Zac Efron looks like, but I know that I'm very curious to find out.
Now, another intriguing performer has joined the cast. Priyanka Chopra is best know in the Western world for her role on ABC's new series Quantico, but she's a huge movie star in her native India. Naturally, her next gig involves menacing a bunch of buff and busty life guards as the villain of Baywatch.
The news of Chopra's casting (which been rumored since January) was revealed by a video Dwayne Johnson posted on his Instagram account. And of course the video was shot on a beach. The Rock doesn't half-ass these things, you know.
She's one of the biggest stars in the world. Insanely talented, relentlessly smokin' and extremely dangerous – perfect for #BAYWATCH. Welcome @PriyankaChopra to our bad ass and incredibly dysfunctional family. Cue RATED R slo-mo running on the beach. We start shooting next week. World.. #WelcomeToBaywatch ????????????????????????????
Johnson also confirms in that post what has been long-suspected – this won't just be a comedic riff on Baywatch, but an R-rated comedic riff on Baywatch. The obvious touchstone here is 21 Jump Street and 22 Jump Street, which took a fairly lame television series and transformed it into one of the funniest film franchises of the past decade, embracing a hard R-rating the entire time. And let's face it: if you want to capture some of the magic chemistry crafted by Channing Tatum and Jonah Hill in those movies, you team up Johnson and Efron, both of whom have proven themselves to be effortlessly charming and funny in the past.
Details of this film remain under wraps, but I'll go ahead and hazard a guess about what this thing will be about because Baywatch was nothing if not predictable. Chopra's villain will somehow threaten the beach and a team of lifeguards, played Johnson, Efron, Alexandra Daddario, and Kelly Rohrbach (filling in for Pamela Anderson), will have to go waaay above and beyond the call of duty to save the day. Naturally, this flimsy plot will probably just be an excuse for silly and raunchy gags, with more than a few jokes about how everyone keepings running in slow-motion. And it could be good! Really! I'm actually choosing to have faith in this! Look at all these exclamation points I'm using!
Baywatch begins filming next week under director Seth Gordon and is targeting a May 19, 2017 release date.