'Midnight Special' Trailer: Jeff Nichols Channels Carpenter And Spielberg And It Looks Great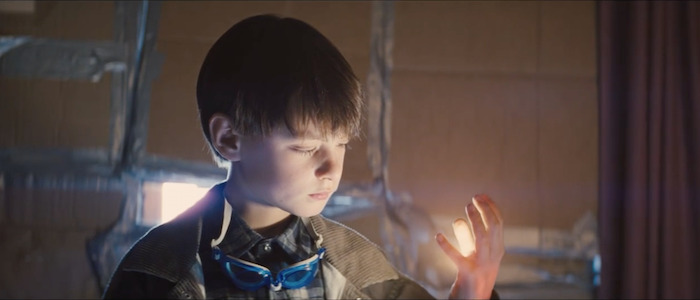 Writer/director Jeff Nichols says that one of his chief inspirations for Midnight Special was John Carpenter's Starman, and the new trailer for this mysterious film evokes that undervalued gem and more. While the preview is intentionally bereft of hard information on plot or characters, the vibe here is totally old school Steven Spielberg. This trailer contains that combination of awe and conspiracy that makes Close Encounters of the Third Kind such an incredible work, but there's definitely a larger Amblin thing going on here. So many of the films produced under Spielberg's iconic banner where "family movies" that never avoided going for the throat, genre adventures for all ages that never spoke down to the audience.
The new Midnight Special trailer looks like the paranoid sci-fi of the '70s collided with a classic '80s Amblin film and it looks fascinating. You shouldn't expect anything less from the director of Mud, Take Shelter, and Shotgun Stories.
Like the previous trailer, an intense mood is the real star of this trailer. We know that the great Michael Shannon plays the father of a young boy with supernatural powers and that they're on the run from the government. We know that Adam Driver is somehow involved in the pursuit and that Kristen Dunst has some kind of familial connection to the boy. Joel Edgerton and Sam Shepard round out the impressive cast. But everything else is being intentionally kept out of reach and early reviews have already said that this is a movie that is best watched knowing as little as possible.
Midnight Special made the list of my most anticipated films of 2016 and the buzz coming out of the film's premiere at the Berlin Film Festival has been mixed but mostly pretty warm. A Nichols film is an event – getting to see him take his naturalistic style and apply it to a direct big genre film is an exciting prospect. Plus, seeing Nichols reunite with Michael Shannon again is a cause for celebration as both tend to bring out the absolute best in one another.
Here's the official synopsis:
Roy is a father desperate to protect his uniquely gifted, eight-year-old son in this genre-defying thriller which proves once again that director Jeff Nichols is one of the most compelling storytellers of our time. As father and son go on the run, an intense chase ensues as they are hunted down by a mysterious cult and a clandestine government agency – the outcome of which could bring about a world-changing event.
Midnight Special will play the 2016 SXSW Film Festival before opening in theaters on March 18, 2016.