Star Wars Bits: The Return Of Force Friday, The Secret Identity Of Boshek, And The Most Detailed Study Of The 'Star Wars' Universe Ever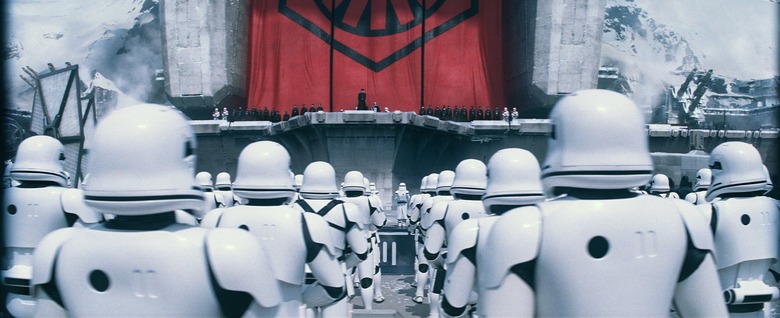 What? The official announcement that Star Wars: Episode 8 has begun filming wasn't enough for you? Okay. Fine. Sheesh. Here's some more Star Wars Bits. In today's edition:
A possible date for the next Force Friday event.
The latest round of awards for Star Wars: The Force Awakens.
A seriously intense study of the Star Wars expanded universe.
Jacob Tremblay wants to be in a Star Wars movie, thank you very much.
The coolest Star Wars drone yet.
A Star Wars: The Clone Wars veteran joins Star Wars Rebels.
A new look at LEGO Star Wars: The Force Awakens.
The long-lost identity of the actor who played Boshek.
Rey in finally on the way to Star Wars Monopoly.
The highlight of the latest issue of Marvel's Darth Vader.
A Star Wars/Mario Kart mash-up, just in case that's your thing.
A Star Wars Rebels/Firefly mash-up, just in case that's your thing.
Remember last September when you lined up for hours to spend hundreds of dollars on merchandise for a Star Wars movie that nobody had seen yet? Yep, Force Friday was certainly a thing that happened, an event that managed to reflect Star Wars fandom at its best (it's a big community full of passionate folks!) and its worst (it's a big community full of weirdos who line up for toys!). Anyway, the event was a huge success in just about every way, so of course it's happening again. Jedi News took to Twitter to reveal that 2016's Force Friday is already set for September 30 and that the line of toys and merch will be centered around Rogue One: A Star Wars Story. You should take this with the necessary grain of salt until something is officially announced, but the timeline certainly makes sense.
Star Wars: The Force Awakens was a big winner at this year's Advanced Imaging Society's Creative Arts Awards, which honor the latest and greatest in films that push the technological envelope. J.J. Abrams' film took home statuettes for best 3D live-action feature and best 2D-to-3D conversion, which certainly feel well-deserved. In an age where many audiences are rejecting 3D thanks to poor conversions and murky visuals, The Force Awakens actually managed to utilize this technology very well. Kudos to everyone involved!
The ridiculously adorable Jacob Tremblay appeared on Conan to discuss his role in the excellent Room and he once again stole our hearts right our of our chests. The young actor recently finished filming The Book of Henry under the direction of Star Wars: Episode 9's Colin Trevorrow and he was not unaware of the director's next project. Like just about every young boy in existence, Tremblay likes Star Wars and he told Trevorrow that he will happily play a part in the saga. But who would he play? Oh, he let Conan O'Brien know and it's the cutest thing ever.
Game Informer has dedicated their next cover story to LEGO Star Wars: The Force Awakens and they've spent the past few weeks steadily unveiling new details about the game. Their latest video about the game may be the most interesting one yet. This quick interview with lead story designer Graham Goring and cutscene director Phil Gray explores how they took a movie filled with its fair share of dark and difficult moments and reconfigured them so they would work within a comedic video game. How do you handle the death of Han Solo in a game that is otherwise wacky and silly fun?
We've seen our fair share of impressive Star Wars-themed drones, but few of them has been quite as jaw-dropping as this Lambda Shuttle, which can actually retract its wings as it goes in for a landing. If you want to know more, designer and builder A.J. Woods has shared photos of his process.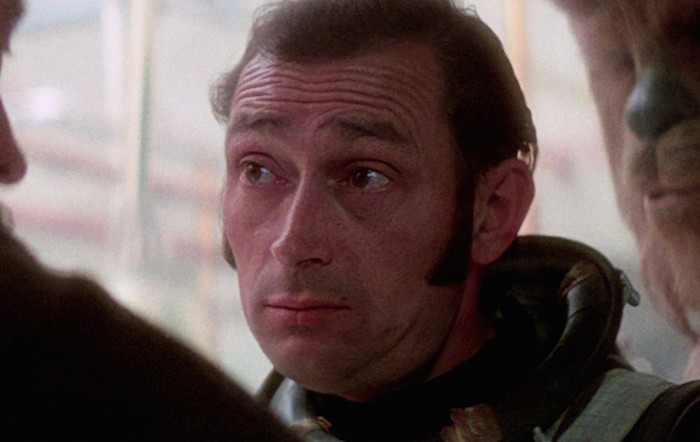 If you played a minor character in a Star Wars movie, you could make a pretty decent living hitting up the convention circuit, signing autographs for a few bucks a pop. However, one actor has spent the past decades cloaked in mystery as he was uncredited in the actual film. You may recognize Boshek as the fellow in the Mos Eisley Cantina who points Obi-Wan and Luke in the direction of Han Solo and Chewbacca (he has a toy and everything). No one knew the name of the actor who played him until investigative reporter Bill Jensen decided to find out and the results are surprisingly compelling. Eventually, managed to contact the daughter of the man-who-was-Boshek:
My Dad, Mr. Frances Alfred Basil Tomlin played the part of Boshek. Everyone knew my Dad as Tom. Unfortunately my Dad passed away over 11 years ago now, but it would be nice if we could get his name recognized as his claim to fame was his part as Boshek and a storm trooper in the first Star Wars film.
So there you go. He may be a minor character, but Boshek's tiny contribution to the Star Wars story now feels complete.
What happens when you combine Mario Kart and Star Wars into one thing? You get Star Kart, a new animated video that puts the Super Mario Bros. cast in Star Wars vehicles for a silly race throughout space. And yes, somehow those damn bananas still prove effective against advanced space craft. If nothing else, this thing has us itching to play Star Wars Episode I Racer again. Hey, Lucasfilm: can we get another Star Wars racing game? You don't have to find a way to license Mario characters, though. Regular 'ol Star Wars characters will be fine.
If you're not reading Marvel's Darth Vader comic, you're missing out. The series, which follows Vader's various adventures in the time between the original Star Wars and The Empire Strikes Back, has been consistently strong and the latest issue contained an all-time great moment for the Sith lord. Long story short: Emperor Palptaine has been training potential replacements for his right hand cyborg and Vader doesn't take to kindly to this. So he pays his boss a little visit, as you can see in the pages above. Thanks to io9 for the images.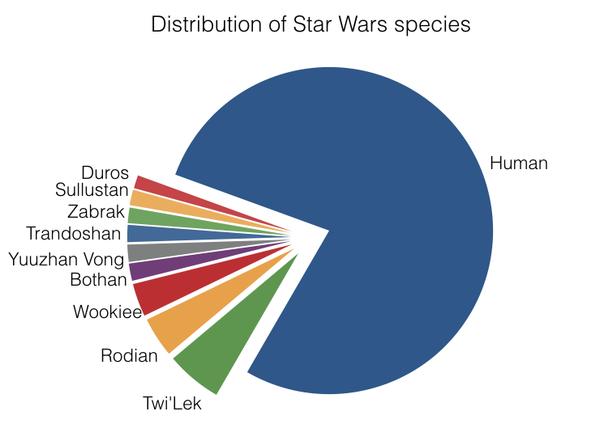 A team working out of Switzerland's École Polytechnique Fédérale de Lausanne ran the entirety of the Star Wars expanded universe through a computer and a bunch of fascinating details emerged. Now, their research is your trivia! Via Gizmodo:
The Expanded Star Wars Universe consists of a whopping 21,647 characters. That number drops to 19,612 if every character listed as "unidentified" is removed. Of these, an astounding 7,563 play an important role. Among those drawn to the ways of the Force, 1,367 are Jedi and 724 are Sith. These characters are dispersed among 640 distinct communities on 294 planets. Surprisingly, 78 percent of the galaxy's population is human.
If you want to explore a whole bunch of charts and graphs, make sure you hit the link above.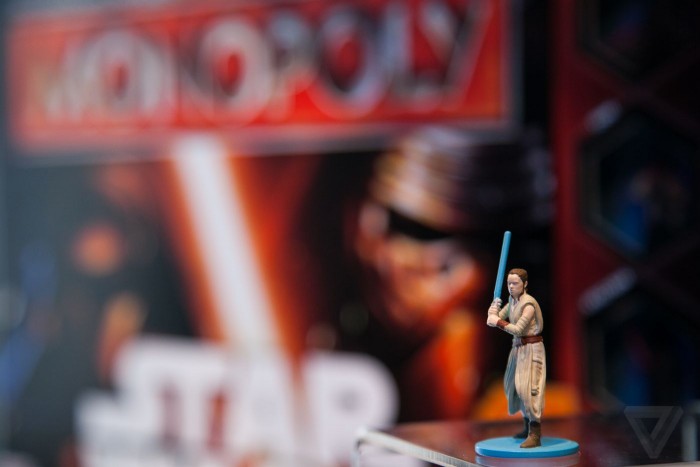 Star Wars fans where already annoyed at the lack of Rey toys when the film first arrived last year, but the entire #WheresRey? campaign hit is apex when it was revealed that the new Star Wars Monopoly game wouldn't feature the actual main character of the film. The resulting outcry led to Hasbro promising a figure of Rey in future printings of the game. Now, The Verge has revealed our first look at little Monopoly Rey, which will be shipped with new copies of the game this fall.
It was inevitable, and we're shocked it took the internet this long to do it, but someone has recreated the opening credits of Firefly using footage from Star Wars Rebels. As far as fan mash-ups go, this one is better than most for two reasons. First, there is a direct thematic connection between the shows as they both follow unlikely heroes operating on the fringes of the galaxy. Second, it's just another chance to listen to the Firefly theme song again and how can you say no to that?
Can we also talk about how awesome it is to have @cattaber back as Numa?! #StarWarsRebels #StarWarsFamily pic.twitter.com/eD5i8uG2tT

— Tracy Cannobbio (@Tcann13) February 11, 2016
Speaking of Star Wars Rebels, the new series' bonds with the late and beloved Star Wars: The Clone Wars continue to strengthen. It has been revealed (via the Twitter feed of Lucasfilm's Tracy Cannobbio) that Catherine Taber will guest star on Rebels, voicing a grown up version of the Numa, who was last seen as a young child on The Clone Wars. Taber also voiced the younger Numa (as well as various other Clone Wars characters), but this will mark her Rebels debut.
So what's up with Jawas? Really. If you want to know, the latest episode of Star Wars Minute takes a look at they diminutive scavengers and it turns out... that we really don't know much about these mysterious little creatures. Okay, someone needs to go pitch a novel about the secret history of these little guys because their lack of a definitive history is at total odds with the rest of the Star Wars universe.
Mashable had a chance to play with InteracTech's new Stormtrooper toy and yeah, it's pretty cool. $29.99 is actually a pretty fair price for a toy that makes all of your old action figures look a little like antiques.