Ashley Judd Is The Latest Actress To Be Sucked Into The 'Twin Peaks' Revival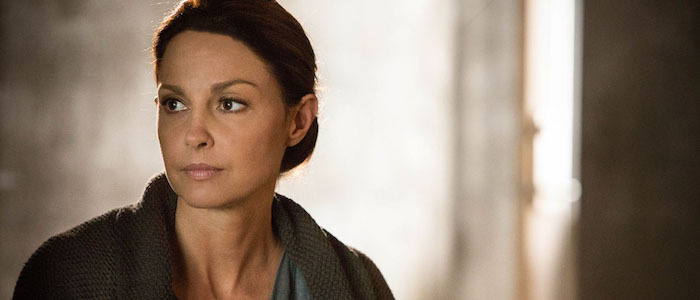 J.J. Abrams' patented "Mystery Box" has nothing on whatever black magic David Lynch and Mark Frost are utilizing as they shoot the third season of Twin Peaks. The revival of the beloved supernatural drama series has been shooting for some time now and has been adding new and returning cast members with borderline alarming frequency, but we know next to nothing about what this series is about or how it will continue the cliffhanger season finale. Even the first trailer was entirely vague.
But we do know that Ashely Judd is in the mix now, playing... who knows? What? Did you expect this particular slice of casting news to come equipped with information of any kind?
The news broke over at Deadline, who have no details to offer beyond Judd silently joining the show's ensemble. Judd is the latest newcomer to the Twin Peaks world, joining a genuinely bizarre group of names that includes Amanda Seyfried, Naomi Watts, Jennifer Jason Leigh, Laura Dern, Robert Knepper, James Belushi, Tom Sizemore, Balthazar Getty, Grant Goodeve, Larry Clarke and Caleb Landry Jones.
The newbies join a cast of familiar faces, led by Kyle McLachlan (the only officially confirmed actor). Sheryl Lee, Sherilyn Fenn, Mädchen Amick, Michael Horse, Dana Ashbrook and Miguel Ferrer, Ray Wise, Grace Zabriskie, Peggy Lipton and Everett McGill are also reportedly returning. Lynch himself is expected to cameo and Deadline claims that Mark Frost's father, Warren Frost, will return to play Dr. Will Hayward one more time.
That line-up of actors and actresses says a few things about this project. First, a lot of very interesting actors seem to be willing to work with the brilliant but eclectic Lynch, who hasn't directed a film since 2006's Inland Empire. Second, it seems that the new episodes of Twin Peaks will be sprawling enough to demand a lot of actors, with enough juicy roles to entice some pretty well-known and well-liked performers.
Although she is best known across the pop culture landscape for her roles in "women in peril" thrillers like Double Jeopardy and Kiss the Girls, Judd can be a powerful performer when paired with the right material. The thought of her working with David Lynch immediately recalls her performance in William Friedkin's hugely underrated Bug, which allowed her to showcase a raw, powerful, and surreal corner of herself that few other films have utilized. If anyone is willing to unlock that side of Judd again, it would be Lynch.
The new season of Twin Peaks should premiere sometime in 2017. Frost and Lynch wrote the entire season and Lynch is directing every episode.