'10 Cloverfield Lane' Trailer: Everyone Outside Is Dead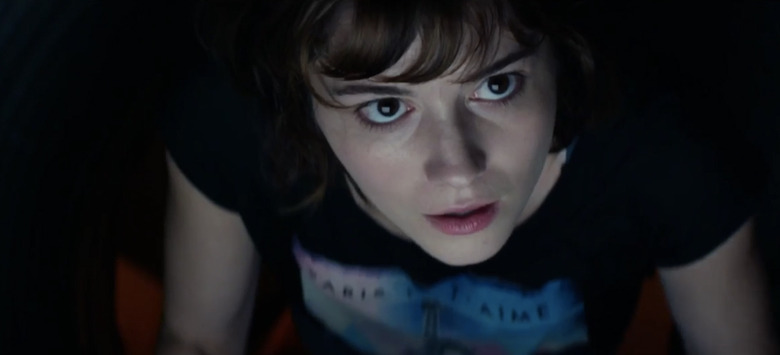 Audiences were surprised by a new trailer for some kind of sci-fi thriller called 10 Cloverfield Lane when it played without warning before 13 Hours: The Secret Soldiers of Benghazi, just like the first trailer for the original Cloverfield did when Michael Bay's Transformers was released.
Since then we've learned that the film is a "blood relative" to the found footage monster movie that was directed by Matt Reeves and produced by J.J. Abrams and his Bad Robot production banner. We don't entirely know the length to which 10 Cloverfield Lane is connected to Cloverfield, but viral marketing is already starting to bridge the gap between the two films.
Now another trailer for the movie, which premiered during midseason return of The Walking Dead, gives us a little more insight into how Mary Elizabeth Winstead came to be trapped in a bunker with John Goodman and John Gallagher Jr. Watch the quick new 10 Cloverfield Lane trailer below.
This trailer does away with tricking us into thinking this is some kind of happy family and immediately shows us that Winstead was being held captive, but apparently in an effort to keep her safe from whatever is outside the bunker. We find out that Gallagher's character doesn't have any ties to Goodman and he was just desperate to escape whatever horror lies outside the bunker.
Perhaps the biggest reveal, although it's one that we already assumed, is that everyone outside of this bunker is dead. That's what Goodman says anyway, but that's not stopping Winstead from trying to get out and see for herself, as we saw in the Super Bowl spot for the movie as well.
Mary Elizabeth Winstead only offered a little bit of a hint as to what we can expect from 10 Cloverfield Lane, and she said:
"There is this veil of secrecy to it from the very beginning. We were making this movie in this little bubble where nobody else knew what we were doing and there's really only three actors in the whole thing, so it kind of felt like this really intimate experience. Now that it's about to come out, it's sort of crazy — like, 'Oh yeah, people are excited to see this movie.' I forgot that that was going to happen."
This film from director Dan Trachtenberg didn't begin as a Cloverfield sequel or follow-up, but are there monsters out there? Is it the Cloverfield monster, or maybe a bunch of its offspring? We don't think the connection will be quite as direct as that, but again, the viral marketing is starting to create little ties here and there. In the end, that could be the only link the movies end up sharing though. We'll find out next month.