'Game Of Thrones' Season 6 Teaser: Take A Walk Through The Creepy Hall Of Faces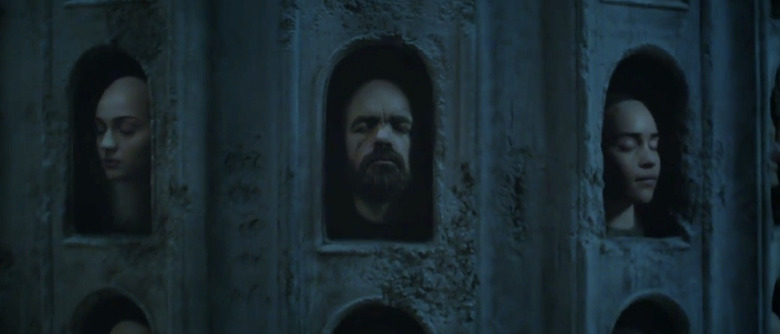 After a slew of photos from the forthcoming sixth season of Game of Thrones debuted last week, we now have an official trailer teasing what's in store for Westeros this season. There isn't any new footage from the show, but what we get is quite the creepy and ominous tease of what's to come, including a tease at more death, using the faces and detached heads of the previously deceased to leave you unsettled. This is Game of Thrones after all, and plenty of blood will be spilled again.
Watch the Game of Thrones season 6 trailer below.
The last face we see of those who have been killed before this season is Kit Harington as Jon Snow. Along with his face comes the line, "The Long Night is coming, and the dead come with it." For those who don't know, The Long Night refers to the previous dark period when winter fell over Westeros and thousands died, both due to the harsh cold and because of the deadly White Walkers.
There's still no hint of Jon Snow coming back this season, even though it's a pretty forgone conclusion since he's been spotted on location where the series has been shooting. HBO has been milking that for all its worth, including parading Snow around in the first teaser poster last fall.
But there is a tease of more big deaths to come as the heads of Tyrion Lannister (Peter Dinklage) and Daenerys Targaryen (Emilia Clarke), as well as other still living characters, make up the final shot of the trailer. Who will die this season?
Don't forget, this is the first season that will delve into territory that has been unexplored in the books. George R.R. Martin announced just after the new year that he did not meet the deadline to finish the next book in the series in order for the book to be published before the new season begins. That means if you're looking to avoid spoilers in the book, you may not want to watch this season of Game of Thrones.
Summers span decades. Winters can last a lifetime. And the struggle for the Iron Throne continues.
It stretches from the south, where heat breeds plots, lusts and intrigues, to the vast and savage eastern lands, where a young queen raises an army. All the while, in the frozen north, an 800-foot wall of ice precariously protects the war-ravaged kingdom from the dark forces that lie beyond. Kings and queens, knights and renegades, liars, lords and honest men...all play the 'Game of Thrones.'
An original series based on George R.R. Martin's best-selling 'A Song of Ice and Fire' series.
Game of Thrones season six premieres on HBO on April 24.