Cool Stuff: We're Finally Getting The LEGO Hoth Playset 'The Empire Strikes Back' Deserves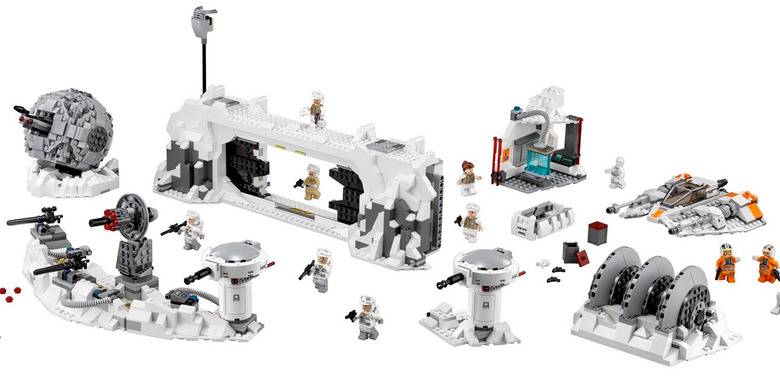 There are a slew of incredible LEGO Star Wars sets out there, but for some reason The Empire Strikes Back hasn't really properly been given its due diligence in building brick form. Specifically, with the exception of a Snowspeeder and AT-AT, the playsets recreating scenes from the opening battle on Hoth have been lackluster at best. But that changes this spring with a new Echo Base LEGO set that is nearly everything you ever wanted from a LEGO Hoth playset. See more photos below.
Here's some shots of the LEGO Hoth playset straight from the LEGO Facebook page:
What's really cool about this set is that it's designed in such a way that you can piece together the separate chunks of the set however you see fit. The Rebel turrets can be moved around, you can put the ion cannon right next to the shield generator, and the interiors of the base can be moved around in the same way.
In addition, besides the 2,144 pieces that make up this set, you'll also get no less than 14 minifugres, some of which bring some obscure characters to LEGO for the first time. For example, there's a figure for Toryn Farr, who operates the ion cannon, Wedge Antilles, and Major Bren Derlin, the Hoth officer played by Pixar good luck charm John Ratzenberger. And of course there's Luke Skywalker and Han Solo in Hoth gear, along with a Tauntaun, a Wampa and his cave. Though sadly there isn't one that you can fit Luke inside of.
This set really does seem to have everything, but I can't help but wish it had a couple more items. Including an AT-ST with the set would have been cool (an AT-AT would have been too much, even though the individual set of the Imperial walker has been retired now). And I can't believe there isn't a bacta tank to put Luke inside of inside the base. But perhaps the most egregious exclusion is Leia in Hoth gear. That just doesn't make sense.
The reveal of the playset comes as Toy Fair 2016 is unveiling a bunch of new goodies for fans of anything and everything. The good news is you won't have long to wait to get your hands on this set because LEGO will release it in April. But it will set you back a pretty penny because it's going to cost $250. So save your money, and may the Force be with you.