'Smurfs: The Lost Village' First Look: Wanna See Joe Manganiello Shirtless... As A Smurf?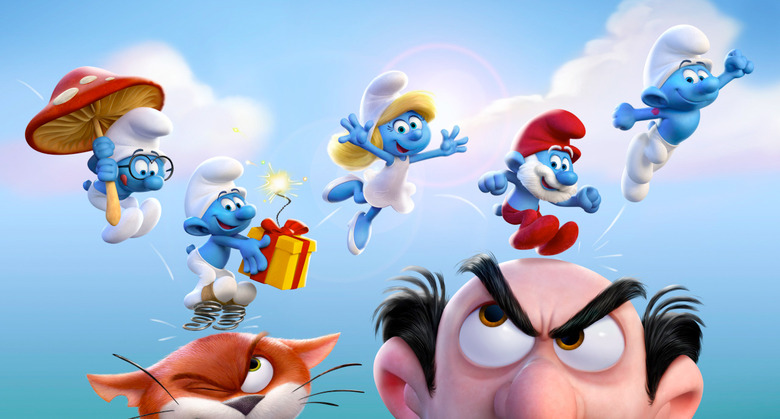 Nearly a year ago, we found out that Sony was going to take The Smurfs in an all-new direction on the big screen. Instead of continuing the live-action animation hybrid franchise, they opted to have Sony Pictures Animation develop an all-new animated film that would essentially reboot the blue creatures on film. Now the film has a title and more voices to add to its roster.
The movie is called Smurfs: The Lost Village, and it will follow Smurfette (Demi Lovato) on a journey to find out what her purpose in life is, and why she's the only girl in the village. But she won't be alone, as her three brothers Brainy, Hefty and Clumsy will be joining her. But who will be voicing the sibling trio? Find out below along with the first Smurfs The Lost Village images.
Here's an image from the new animated Smurfs (via USA Today):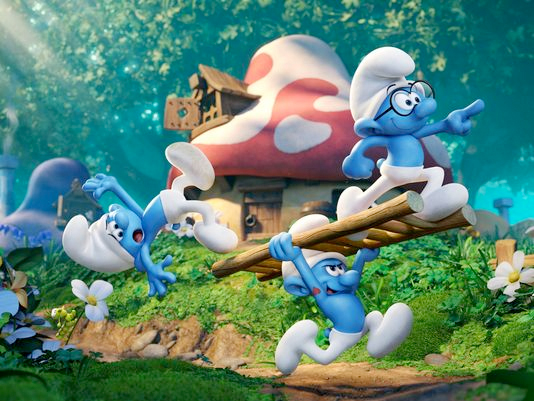 You can see the three brothers in the new image, though Smurfette can only be seen in the previously released promo image at the top. 30 Rock's Jack McBrayer will voice the sweet, awkward and honest-to-a-fault Clumsy, with Danny Pudi (Community) as the book smart and geek proud Brainy, who is "long on knowledge, but short on inter-Smurf-onal skills," whatever that means. And finally, Hefty will be voiced by True Blood and Magic Mike star Joe Manganiello, the perfect talent for the loyal dynamo struggling with his hero complex.
In fact, the casting of the latter Smurf resulted in some changes to the character. Director Kelly Asbury (Shrek 2) explains:
We've designed Hefty to have slightly bulkier arms, and he can flex his biceps — Hefty Smurf has guns. He also walks with a rather puffed-up, confident posture. He's very protective of them all, especially Smurfette, for whom he carries a not-so-secret puppy-love torch.
The rest of the voice cast includes Rainn Wilson as Gargamel and Mandy Patinkin as Papa Smurf. Surely there will be some other voices to add down the road, but we've got plenty of time to learn about those since the film doesn't arrive until March 31, 2017. If you want to know more about the movie, here's the official synopsis from Sony Pictures Animation:
It seems to Smurfette that everyone else in the Village has a purpose — Papa Smurf (leading), Baker Smurf (baking), even Grouchy Smurf (grouching) — except for her. So what's the only girl in the village to do? Go in search of hers, of course!
When she accidentally crosses paths with a mysterious creature that takes off into the Enchanted Forest, she follows, and sets off into the uncharted and strictly forbidden woods. Joined by her brothers Brainy, Hefty and Clumsy — and with the evil wizard Gargamel shadowing their every step — Team Smurf undertakes a wild journey full of action, danger and discovery, setting them on a course that leads to the biggest mystery in Smurf history.
The fully-animated return to the tone and style of the beloved comic book creations of Peyo is directed by Kelly Asbury (Shrek 2, Gnomeo & Juliet), produced by Jordan Kerner (Charlotte's Web, The Smurfs), co-produced by Mary Ellen Bauder (Hotel Transylvania), and executive produced by Raja Gosnell and Ben Waisbren.