'The Powerpuff Girls' Clip: It's Good To Be Back In Townsville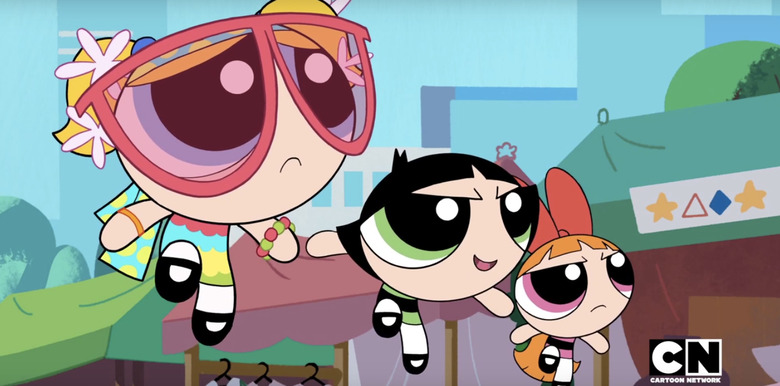 Sugar. Spice. And everything nice. These were the ingredients chosen to create the perfect little girl. But Professor Utonium accidentally added an extra ingredient to the concoction: CHEMICAL X. Thus The Powerpuff Girls were... reborn!
You can have your Fuller House and your Gilmore Girls revival, but personally, I'm way more excited about seeing the return of the pint-sized, animated superheroes known as the Powerpuff Girls. The animated series gets a bit of a reboot this April on Cartoon Network, but when you see the first footage from this new Powerpuff Girls series, you'll see that not much has changed, and that's a good thing. Check it out!
Here's the first clip from the new Powerpuff Girls series coming to Cartoon Network:
The animation for The Powerpuff Girls has been updated ever so slightly and the voices of the girls are different with Amanda Leighton as Blossom, Kristen Li as Bubbles and Natalie Palamides as Buttercup. Otherwise, the playful tone of the show has been preserved, and this feels like something that fans of the original series will love just as much.
The writing certainly still seems to be clever, along with empowering little girls. In this clip, a villain named Manboy, born of brawn and musk, has vowed to turn the city of Townsville into the city of Mansville, a place where men are men and boys are men. But of course, the Powerpuff Girls aren't going to put up with any of that.
This really looks like it's going to be an enjoyable return for The Powerpuff Girls. And the good news is that even if it's not up to par, you can always go back and watch the old episodes that you loved so much and still let the new generation like this one. Or maybe you'll be happy with both versions and everyone wins. We'll find out
Blossom, Bubbles and Buttercup, the original arbiters of girl power, are back on Cartoon Network! The Powerpuff Girls, the beloved global phenomenon, will return this spring with a brand-new, re-imagined series about three girls juggling school and saving the world before bedtime.
The Powerpuff Girls returns to Cartoon Network sometime in April.