POTD: 'Guardians Of The Galaxy Vol. 2' Gets A New Title Logo As Production Officially Begins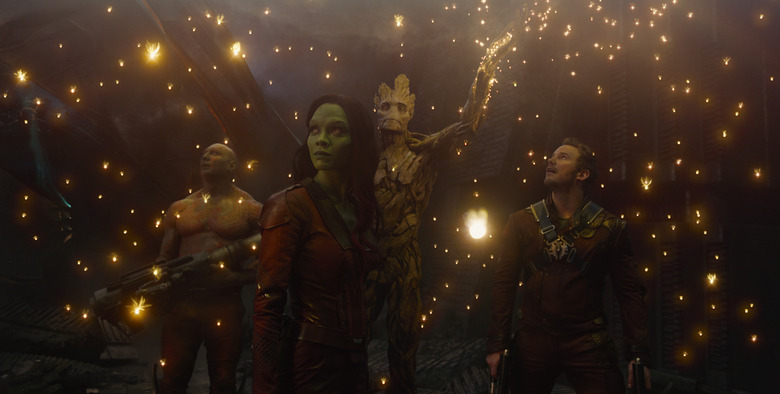 Down in Atlanta, Georgia, director James Gunn has officially begun production on Guardians of the Galaxy Vol. 2. Not too long ago we featured some pictures that the filmmaker posted to his Instagram and Facebook accounts, and now Gunn has taken to social media again with a post from the set of the sequel, showing off a new production title logo. It's not drastically different than the one we've seen before, but we're just excited that filming is finally beginning. Check out the new Guardians of the Galaxy 2 logo after the jump.
Here's what James Gunn posted to Instagram yesterday:
In the words of the great poet David Coverdale, Here I go again. #GotGVol2
It's the "Vol. 2" portion that has been given a bit of a makeover, which was previously made to look handwritten over the original Guardians of the Galaxy title design.. However, it's important to note that there's a good chance this won't be the final title design that we see on posters and other marketing materials. Often times the canvas chairs that actors, directors, producers and some of the crew sit in while on set merely have temporary or working production logos or titles.
Frankly, I'm surprised they didn't go with some kind of old tape label to emulate the title being named like one of Star-Lord's mix tapes. But perhaps that's what they'll end up doing for the final title design. Speaking of which, is that reference to the Whitesnake song "Here I Go Again" a hint that the song might be on the soundtrack for the sequel? We'll find out eventually.
The important thing is Guardians of the Galaxy Vol. 2 is filming now, and we'll get to see it on May 5, 2017. Now if we could just get confirmation that Kurt Russell is Star-Lord's father, that would be great.