'Independence Day: Resurgence': Liam Hemsworth Was Orphaned By Aliens [Interview]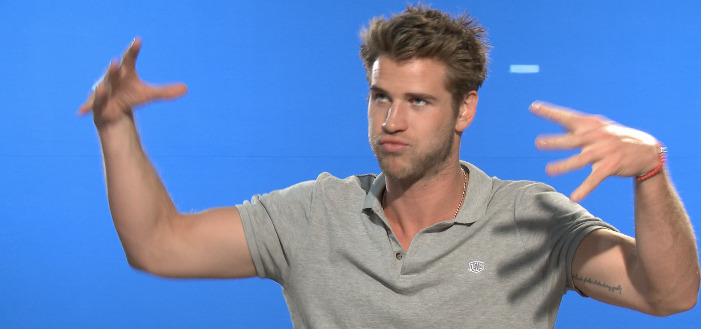 Along with Maika Monroe as the daughter of President Whitmore (Bill Pullman) and Jessie Usher as the son of Steven Hiller (Will Smith) and Jasmine (Vivica A. Fox) in Independence Day: Resurgence, one of the other new, young cast members on the scene is Liam Hemsworth. Like Monroe and Usher revealed in our interview with them, Hemsworth saw the movie when he was very young, around six years old, on VHS. And even though his character Jake Morrison was rather young during the alien invasion of the first film, it's not exactly something he'll forget.
Find out what we learned in this Liam Hemsworth interview for Independence Day Resurgence.
Here's what Hemsworth told us about his character in the sci-fi sequel:
[Jake's] parents were killed in the first attack. So he grew up in an orphanage, joined the military, became a fighter pilot and ended up in the best of the best fighter pilots and makes a bad decision and ends up being demoted to the moon where he drives what is essentially the same as a forklift.
But of course, Jake's one of the heroes of the movie, and you can't expect his fighter pilot talents to go to waste. And while Hemsworth was a bit tight-lipped on how he gets back into action, other than making explosion noises, he did mention one character he gets to spend a lot of time with:
I have a lot of stuff to do with Jeff Golblum's character in this. We've had a lot of fun in the Moon Tugg... It's big, it weights 40 tons. We had a lot of fun in that. It's kind of a different process than anything I've ever done before because it's a lot of imagining what's happening, filling in the blanks.
For more about how Liam Hemsworth snuck around as a kid to watch the first Independence Day, check out the full video of the interview right here:
We always knew they were coming back. After "Independence Day" redefined the event movie genre, the next epic chapter delivers global spectacle on an unimaginable scale. Using recovered alien technology, the nations of Earth have collaborated on an immense defense program to protect the planet. But nothing can prepare us for the aliens' advanced and unprecedented force. Only the ingenuity of a few brave men and women can bring our world back from the brink of extinction.
Be sure to check out our interviews with director Roland Emmerich and returning star Jeff Goldblum, as well as co-stars Brent Spiner and Vivica A. Fox, and presidents Bill Pullman and Sela Ward. Plus, Maika Monroe and Jessie Usher were on hand for an interview too.
Independence Day: Resurgence arrives on June 24.