'Criminal' Trailer: Kevin Costner Has Ryan Reynolds On His Mind, Literally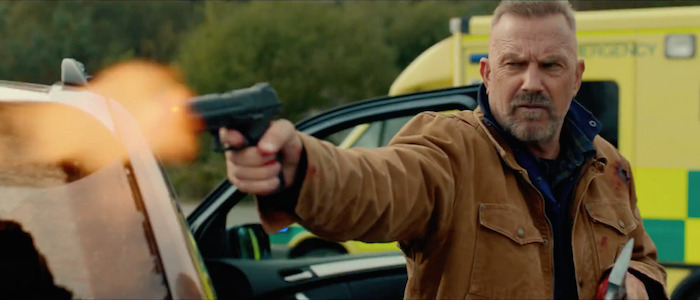 The first trailer for director Ariel Vromen's Criminal looks familiar, but in an oddly comforting way. After watching this footage, you can assemble the entire plot of the film in your head, predict every character arc, and call every twist, but it still feels perfectly fine. This is the kind of mid-range, slightly predictable thriller that we need in our lives, a vehicle for good actors to remind your why you like them. If Criminal lives up to its trailer, it will be a perfectly serviceable stepping stone between event movies. And there's nothing wrong with that.
Plus, it features Ryan Reynolds' brain being directly injected into that of Kevin Costner, which is just weird enough to garner your attention for two minutes.
Criminal is a science fiction-tinged action film (not to be confused with the terrific comic series of the same name) that opens with a valuable government agent dead and his superiors in desperate need of answers. Luckily, a new procedure allows for the memories of this dead man (played by Reynolds) to be implanted into another mind. For this risky procedure, they use a dangerous criminal played by Costner, who suddenly finds himself sharing his head with the mind of a better person and sets out to save the day, right some wrongs and so on. Meanwhile, Tommy Lee Jones does his Tommy Lee Jones thing and Gary Oldman plays the same character he played in the remake of RoboCop. Oh, and Gal Gadot is there as The Girl, which seems like a criminal waste of Wonder Woman.
And it all looks like a serviceable thriller. It looks fine. The definite highlight here seems to be Costner, who is always so interesting when he steps away from typical hero roles to capitalize on his darker side. This is the kind of movie you watch with the father figure in your life – he gets to watch Costner do his thing and you get a little bit of weird science fiction. Everyone wins! You can even grab a steak afterward and compare notes and learn a thing or two about each other and bond. Thanks, Criminal!
Interestingly, this is the second Ryan Reynolds film involving a mind being transplanted to or from a beloved veteran actor to be released in less than a year. If we get one more beyond Criminal and Self/less, we can officially call this a trend!
Here's the official synopsis for the film:
The story of the right man in the wrong body. In a last-ditch effort to stop a diabolical plot, a dead CIA operative's memories, secrets, and skills are implanted into an unpredictable and dangerous death-row inmate in hopes the he will complete the operative's mission.
Criminal opens in theaters on April 15, 2016.