'The Invitation' Trailer: It's My Party And I'll Die If I Want To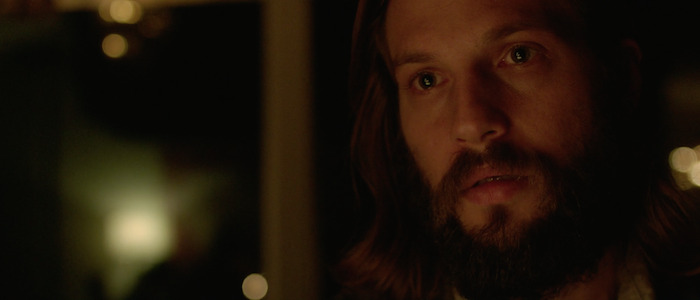 If you're the kind of person who already hates parties and social gatherings, Karyn Kusama's The Invitation is going to press your buttons in a very specific and unsettling way. This small-scale, slow-burning, intense gem is a special kind of cinematic nightmare – the one-location thriller where escape simply isn't an option.
Drafthouse Films has released a new trailer for The Invitation and it's a good one, playing up the film's mystery and tension while side-stepping its various twists and turns.
The Invitation has a very simple set-up. Logan Marshall-Green's Will (wearing his best Tom Hardy costume) reluctantly attends a dinner party thrown by his ex-wife and her husband. Most of the people in attendance haven't seen each other in a long time and everyone is having a great time... except Will, who suspects that something is wrong. Very wrong. Whether that very wrong something is Will himself or something else altogether forms the molten core of pure dread that powers every frame of the film.
This trailer arrives hot on the heels of the new poster, which you can check out right here.
Much of The Invitation involves the film's ensemble sitting around various rooms, drinking wine, eating food, and swapping stories. But Kusama lets us know early on that something is going to happen. The other shoe will drop. And she drops it slowly, agonizingly, forcing us to question every assumption we have about every character. The second half of this film is simply drenched in desperation and panic. The tension is supported by fine performances from Marshall-Green, Tammy Blanchard, Michiel Huisman, and the always- reliable John Carroll Lynch, who bring real humanity to characters who could have easily been cardboard cut-outs assembled from the shop where too many thrillers buy stock characters. We care about Will and we care about his friends, which makes the feelings of unease so much stronger.
Here is the official synopsis of the film:
In this taut psychological thriller by Karyn Kusama (Girlfight, Jennifer's Body), the tension is palpable when Will (Logan Marshall-Green, Prometheus) shows up to his ex-wife Eden (Tammy Blanchard, Into the Woods) and new husband, David's (Michiel  Huisman, "Game of Thrones") dinner party. The pair's tragic past haunts an equally spooky present: Amid Eden's suspicious behavior and her mysterious house guests, Will becomes convinced that his invitation was extended with a hidden agenda. Unfolding over one dark evening in the Hollywood Hills, The Invitation blurs layers of mounting paranoia, mystery, and horror until both Will-and the audience-are unsure what threats are real or imagined.
The Invitation is set to hit theaters and VOD on April 8, 2016. In either case, this is a film that is worth your time and money, especially if you like to feel deeply uncomfortable for 100 minutes. If you need additional convincing, there is always the first trailer.