Insert Sad Version Of 'Rocky' Theme: Sylvester Stallone Sounds Ready To Retire The Italian Stallion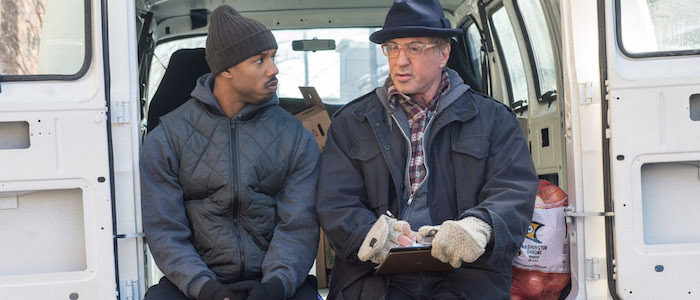 Rumblings about a sequel to Creed began as soon as the first film became a box office hit and a critical darling. The possibilities for future Adonis Creed stories feel limitless – you just have to ask his mentor Rocky Balboa, who has graced the screen seven times now.
And while director Ryan Coogler probably won't be back for Creed 2, the sequel certainly feels like it's going to happen. It already has a 2017 release date and everything. However, Sylvester Stallone recently revealed that the first film may very well be the swan song for the Italian Stallion himself. Adonis still has an entire life ahead of him, but Rocky himself may be done.
Spoilers for Creed follow.
Variety was present at the Santa Barbara International Film Festival, where Stallone received the Montecito Award and spoke about the past, present, and future of his long Hollywood career. When asked about his involvement in the Creed sequel, Stallone dropped some news that is equal parts bummer and entirely understandable:
I really have mixed feelings about this, seriously. I feel like Rocky, at the end of this movie on the steps, with the help of a young man, and he looks out and says, 'From here, you can see your whole life' — it sort of summarizes the whole thing. I don't know how much further you can push Rocky.
The conclusion of Creed is quietly powerful, with Rocky, still struggling against cancer, helping Adonis go the distance in an epic box match before making that famous climb up those famous steps one more time. Rocky is still breathing when the credits roll, but cancer or not, his time is limited and he's relishing this moment with his new surrogate son. Sure, Creed 2 could bring Rocky back and it could even give him a full and proper death scene, but do we really need to him die? Rocky's journey is over and letting that be his final moment on screen would be a tremendous final statement.
Which makes this a little confusing is how Stallone has already spoken about his ideas for where to take Creed 2, which suggests he was just spitballing or had a change of heart.
All of this comes as the Academy Awards quickly approach, where Stallone is the current frontrunner for the Best Supporting Actor award. If you want to take the cynical approach, you could accuse the legendary movie star of playing up the finality of Creed to help seal the Oscar deal. After all, there's something inherently cinematic about Rocky beginning and ending with Oscar gold and there's nothing the Academy loves more than a Hollywood ending.
The rest of the Variety article is full of little gems and anecdotes from throughout Stallone's career, but he took a moment to praise Coogler, who is riding his newfound success to the next level with Marvel's Black Panther:
He just had a certain sense of relatability. He made it fresh and made it his own. I never in my life would have done this on my own. So that's why it's great to take a chance and embrace your fears.
Stallone will probably win an Oscar on February 28. Creed 2 is currently scheduled for November 2017.