Star Wars Bits: Kathleen Kennedy's Dream 'Star Wars' Writer, Incredible Fan Art, And The Coolest Mobile Game Never Made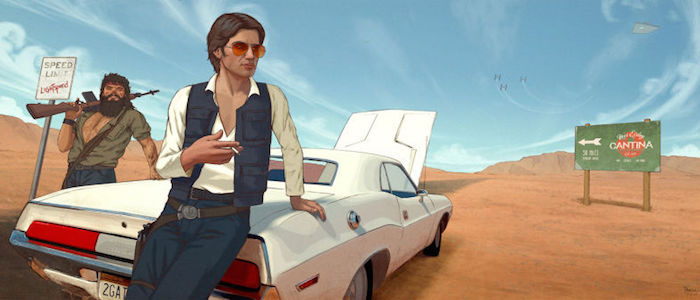 Welcome back to Star Wars Bits, your regular catch-all for anything and everything Star Wars. In today's edition:
A fascinating profile of Lucasfilm head Kathleen Kennedy.
Star Wars is getting its own EDM soundtrack for some reason.
Professional artists reimagine Star Wars with stunning art.
Gaze upon the greatest Star Wars mobile game never made.
And look at the latest preview for Star Wars: Galaxy of Heroes.
Star Wars Rebels may have an hour-long season finale.
There are countless names to thank for the recent successes of Star Wars, but if you want to pin it all on a single person, Kathleen Kennedy is your woman. The head of Lucasfilm has been producing great movies for decades and she knows her stuff. Like the best producers, she has great taste in talent. And in a new profile in Vanity Fair, she talks about wanting to get the legendary playwright and screenwriter Tony Kushner to write a Star Wars movie:
"I suppose the thing that I think about every now and then, that I miss, is: I love writers." In particular she mentioned Tony Kushner, who wrote the play and the screen adaptation of Angels in America. Kushner also worked with Kennedy on Munich and Lincoln. She said, "To sit and talk ideas with Tony—to, you know, explore lots of different areas we could go—it's such a constant education. That is thrilling. And so the only thing I suppose I can do is try to get Tony Kushner to write a Star Wars movie." Kennedy laughed. "There are times I think about that."
Kushner writing a Star Wars movie sounds like some kind of insane joke, but you know what? If anyone could convince someone of his prestige to join this universe, it would be her. The article even speaks to Kushner himself, who emphasized how Kennedy always pushes talent to go on step further, even when they're working on something as populist as a Star Wars movie:
"We had an interesting conversation about how a lot of playwrights start with outlines because it gives you something to hold on to, but that you know the characters are likely to derail the outline once they start doing what they do." He and Kennedy talked about how "there's no telling what will happen once you have invented a person. They may be willing to do what the outline says to do, but they may have very different plans in mind." The sense Kushner got was that Kennedy "was pushing people to be unafraid of being lost for a while. It was good to see her holding the banner of complexity in the middle of this huge enterprise of Star Wars." The machines, in other words, have not won.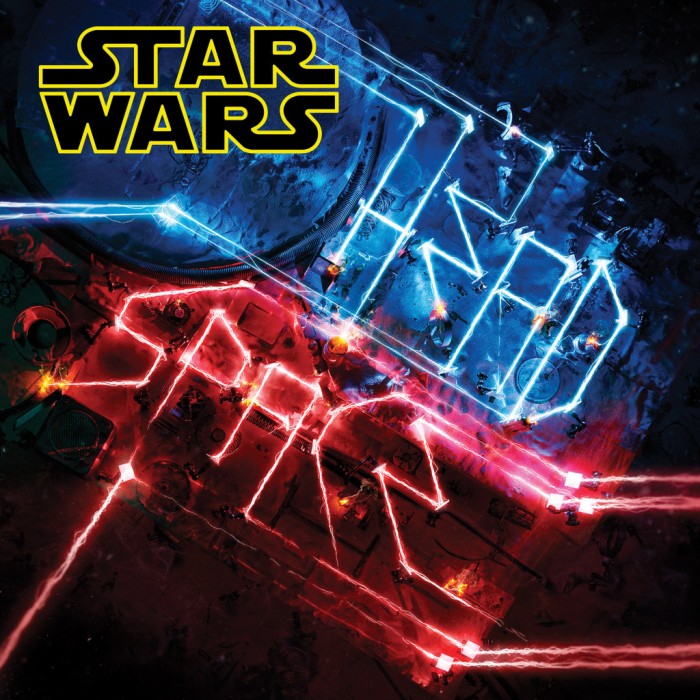 If you happen to like Star Wars and and electronic dance music, you're in for an unlikely treat. Star Wars Headspace is a compilation of original music composed by a variety of respected and emerging names in this particular music scene, all woven together by producer Rick Rubin. Here's how the official Star Wars site describes a track:
The album opens with "C-3P0's Plight" by Kaskade; the track pulsates and builds into a soundscape, iconic Star Wars samples like blaster fire and Wookiee roars enveloping the listener, while C-3P0 laments... "How typical." It captures the humor of Star Wars, the melodrama of C-3PO, and is a kinetic, dynamic production that sets the stage for what follows.
Star Wars Headspace will be available digitally on February 19 and in retail stores on March 18. Here's the complete track listing:
1. C-3P0's Plight Kaskade
2. Help Me! GTA
3. Force TroyBoi 
4. Cantina Boys Baauer
5. Jabba Flow: Rick Rubin Re-Work (feat. A-Trak) Shag Kava
6. R2 Knows (feat. Barry Drift) Claude VonStroke
7. NR-G7 Rick Rubin  
8. Ghomrassen Bonobo
9. Bounty Hunters Röyksopp
10. Sunset Over Manaan ATTLAS
11. R2 Where R U? Flying Lotus
12. Druid Caravan of Smoke Shlohmo
13. EWOK PUMPP Rustie
14. Scruffy-Looking Nerfherder Galantis
15. Star Tripper Breakbot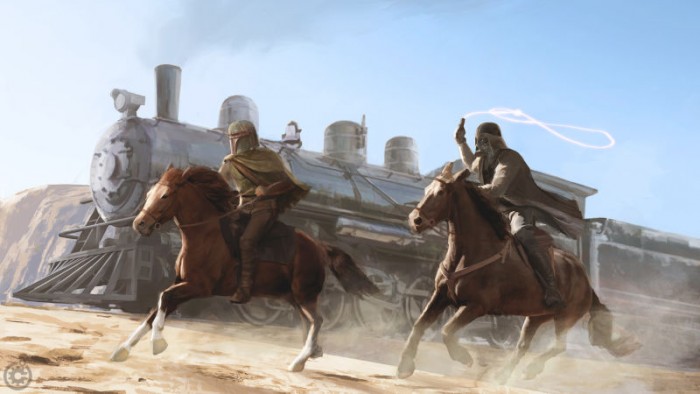 A group of artists, most of them working professionals who regularly work in video games, have spent the past few months participating in a competition titled Star Wars: Reimagined. As the name implies, these talented artists had to "re-imagine your favorite character, creature or vehicle from the Star Wars universe." Some of the results so far, collected over at Kotaku, have been stunning. You can check them out in the gallery below.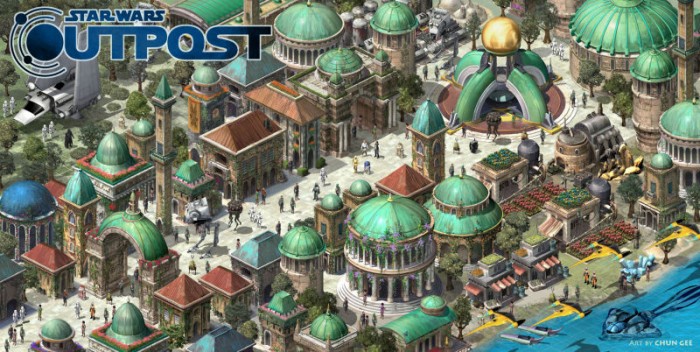 Kotaku has uncovered screenshots from the canceled Star Wars Outpost mobile game, which would have been a deep strategy game that only looked like a Star Wars re-skin of FarmVille. It sounds like it would have been one helluva good time:
But our tipster insisted that Star Wars Outpost would have actually been more complex than people assumed, calling it a "very hardcore game." Players would have been able to manage outposts, trade resources with other players, and choose whether to support the Rebels or the Empire while building a variety of settlements, the tipster said. Players would have also been able to betray one another for resources, which is a tad different than FarmVille.
The game may be dead, but you can gaze over these images and imagine what could have been.
And while you won't be able to play Star Wars Outpost any time soon, you will soon be able to play as Yoda in the Star Wars: Galaxy of Heroes mobile game, so maybe life is still worth living after all. Check out the new trailer below:
Jedi Bibliothek claims to have uncovered episode titles for the final stretch of Star Wars Rebels season 2 and Star Wars Underworld has provided a rough translation of their report. What's most interesting about this news is the two-part finale, which suggests that both episodes will probably be edited together for one hour-long event. Here are the episode titles:
2 × 18 "Shroud of Darkness" (roughly: "Veil of Darkness") – USA: March 2, 2016
2 × 19 "The Forgotten Droid" (roughly: "The forgotten droid" – USA: March 16, 2016
2 × 20 "The Mystery of Chopper Base" (roughly: "The secret of the chopper base") – USA: March 23, 2016
2 × 21 "Twilight of the Apprentice: Part I" (roughly: "Twilight of the student: Part I" – or "the student") – USA: March 30, 2016
2 × 22 "Twilight of the Apprentice: Part II" (roughly: Twilight of the student: Part II ") – USA: March 30, 2016
And with a title like "Twilight of the Apprentice," you just know that Darth Vader and Ahsoka are finally going to have a little reunion.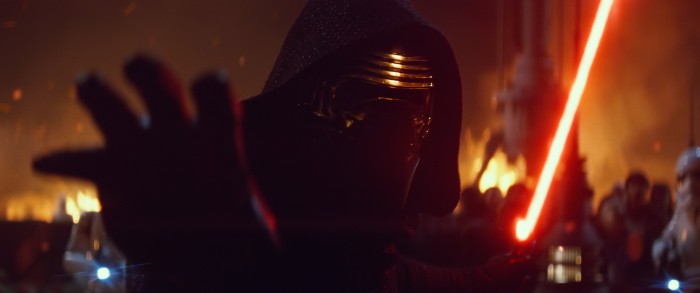 You know how you spent way too much money on Star Wars toys last year? Hasbro thanks you. They thank you very much. Their overall revenue thanks you. Via Toy World:
Hasbro reported strong revenue during the Christmas period and was boosted by demand for Star Wars related toys.
Hasbro's line-up of toys related to The Force Awakens and the rest of the sci-fi franchise led to a 35% sales increase in boys' toys, helping overall revenue rise 13% to $1.47bn.
Chief executive Brian Goldner said the company's overall Star Wars business for the year was "very similar" to the near $500m it made in 2005 when Revenge of the Sith was released.
Hasbro is trying to boost sales of its girls' toys division, which reported a 17% slump last year, and is seeking to add more Disney licences geared towards girls.
Speaking of major corporations whose leaders are currently cackling while swimming through Scrooge McDuck-esque vaults of money, Disney exceeded quarterly expectations in every way thanks to the phenomenal success of Star Wars. According to The Hollywood Reporter:
Disney posted earnings of $1.63 per share on $15.24 billion in revenue, numbers that beat the forecasts of most Wall Street analysts who expected a profit of $1.45 per share on revenue of $14.7 billion.
The always useful Star Wars Minute YouTube channel has released an episode diving into the history of the Millennium Falcon, namely the legendary ship's previous owners before it fell into the hands of that scoundrel, Han Solo.