CBS' New 'Star Trek' Series Beams Up 'Hannibal' Mastermind Bryan Fuller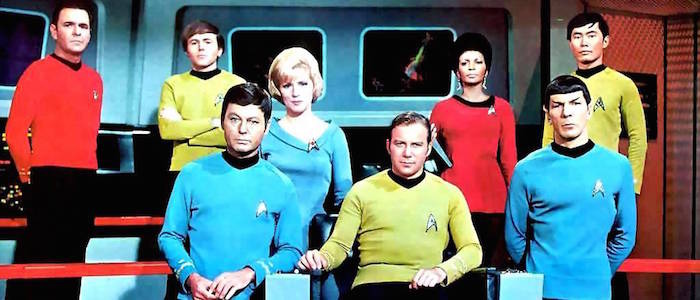 The new Star Trek series has found its captain. Bryan Fuller, the veteran television writer and producer known for his work on tremendous shows like Wonderfalls, Pushing Daisies, and Hannibal has been hired as the showrunner on CBS' new series, which will bring the iconic science fiction series into uncharted territory: the universe of online streaming.
Variety broke the story and it's very exciting news, indeed. Fuller isn't just a fresh and talented voice who has the capacity to give television Trek a new spin – he's a lifelong fan of the series and even cut his teeth writing episodes of Star Trek: Deep Space Nine and Star Trek: Voyager in the late '90s and early '00s. Fuller showcased his geeky credentials with the following statement:
"My very first experience of Star Trek is my oldest brother turning off all the lights in the house and flying his model of a D7 Class Klingon Battle Cruiser through the darkened halls. Before seeing a frame of the television series, the Star Trek universe lit my imagination on fire. It is without exaggeration a dream come true to be crafting a brand new iteration of Star Trek with fellow franchise alum Alex Kurtzman and boldly going where no Star Trek series has gone before."
Series executive producer Alex Kurtzman, who co-wrote Star Trek and Star Trek Into Darkness for director J.J. Abrams, also cast a complimentary spotlight on Fuller:
"Bringing Star Trek back to television means returning it to its roots, and for years those roots flourished under Bryan's devoted care. His encyclopedic knowledge of 'Trek' canon is surpassed only by his love for Gene Roddenberry's optimistic future, a vision that continues to guide us as we explore strange new worlds."
The latest Star Trek films have been hit-and-miss affairs, with the 2009 reboot hitting all of the right notes and its sequel squandering almost all of the goodwill built up by the first film. However, the beauty of Trek is that its world is gigantic – this new show can be as similar or as different from the films as it chooses to be. Heck, it can take place a century before the adventures of Captain James T. Kirk or a century after the missions of Captain Jean Luc Picard. It could be a thrilling adventure series or a thoughtful, political thriller. There are no boundaries here. Star Trek can, and has, encapsulate anything and everything. A showrunner willing to boldly go where no Trek series has gone before has infinite possibilities at his fingertips.
Fuller has shown tremendous range in his work so far, bouncing from the quirky dark comedy of Pushing Daisies to the grim and surreal horror of Hannibal without missing a beat. Seeing him tackle science fiction is an exciting prospect, especially since Star Trek offers a sandbox where any crazy idea is up for grabs. The only question now is how (or if) this series will affect his involvement in American Gods, the upcoming television adaptation of Neil Gaiman's novel that he co-created with Michael Green for Starz. If he continues to be involved in both shows, we're going to be seeing his name a lot in the coming year. Not that anyone is complaining.
Exact details of the new series remain unknown at this time, but we do know that it will premiere on CBS in January 2017 before heading over to CBS' brand new All Access digital subscription service. In other words, the network wants to lure to their new streaming service with a new Star Trek series overseen by one of the most talented names in modern television. If you want to convince a devoted fanbase to sample another streaming option, that's the way to do it.
In the meantime, Star Trek Beyond is hitting theaters on July 22, 2016. It's quite a year to be a Trek devotee.