'Independence Day: Resurgence': Bill Pullman & Sela Ward Plan 'Karate Presidents' Spin-Off [Interview]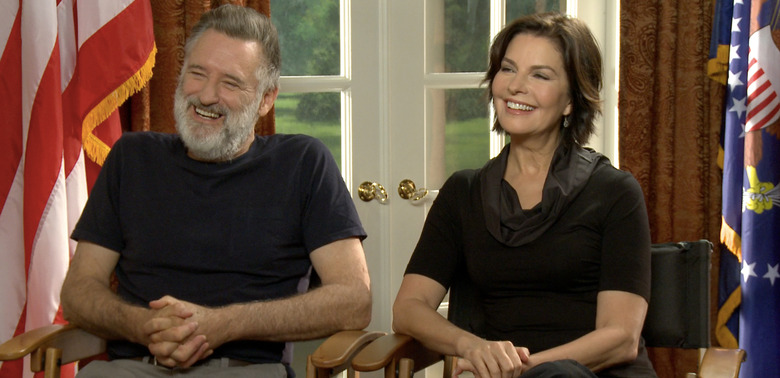 Easily one of the most iconic parts of 1996's blockbuster Independence Day is the speech Bill Pullman gives as President Whitmore before humanity makes their last stand across the globe. But we might not get the same kind of moment in Independence Day: Resurgence since President Whitmore is no longer the sitting president. In fact, he's apparently living a quiet life in the suburbs when the sequel begins and his daughter has the more exciting job working alongside a new president.
The new Commander-in-Chief is President Lanford, played by Sela Ward (Gone Girl, The Day After Tomorrow). Even though it doesn't sound like she'll get the same kind of action that President Whitmore saw in the original movie, she still has plenty to deal with when the aliens return. Plus, Pullman and Ward and more than willing to star in their own spin-off where their presidents team up and utilize their secret kung fu and karate skills.
Check out the Independence Day Resurgence interview below.
Pullman revealed that he's not exactly involved in any political dealings anymore now that he's no longer president:
I'm living in a suburb in Virginia outside of [Washington] DC, living a quiet life. My daughter [Maika Monroe] has the exciting things going on now. She used to live in the White House to me, but she is now working for... the big woman.
Enter President Lanford, who Ward says has picked up where President Whitmore left off, continuing the work of the Earth Space Defense program and preparing a plan should the aliens ever decide to come back. But just because she's overseeing this defense plan doesn't exactly mean she'll get on the frontlines the way President Whitmore did:
It's a very different climate presidentially. It's all about defense and building up and the neglect of money towards other things in the country. People are weary, people have been living in fear for a very long time, not unlike today, having our own violent, traumatic event with 9/11 and everything going on in the world. So you have the same kind of climate, and in terms of her storyline, it's totally different, because the circumstances are different. We're prepared. We think we are. We hope we are. We're not caught by surprise in that respect. A different time.
But Pullman is quick to jest that Ward is being modest saying that she has a whole action scene involving karate, and that's in addition to his own kung fu training that he's been working on. After offering up the idea of a Karate Presidents spin-off, Ward confirmed that they're already writing that while Independence Day: Resurgence is shooting. Check out the full interview with Bill Pullman and Sela Ward right here:
We always knew they were coming back. After "Independence Day" redefined the event movie genre, the next epic chapter delivers global spectacle on an unimaginable scale. Using recovered alien technology, the nations of Earth have collaborated on an immense defense program to protect the planet. But nothing can prepare us for the aliens' advanced and unprecedented force. Only the ingenuity of a few brave men and women can bring our world back from the brink of extinction.
Be sure to check out our interviews with director Roland Emmerich and returning star Jeff Goldblum, as well as co-stars Brent Spiner and Vivica A. Fox. Stay tuned for more interviews with the rest of the cast very soon.
Independence Day: Resurgence arrives on June 24.