'Independence Day: Resurgence': Brent Spiner & Vivica A. Fox Are A Bit Older And Wiser [Interview]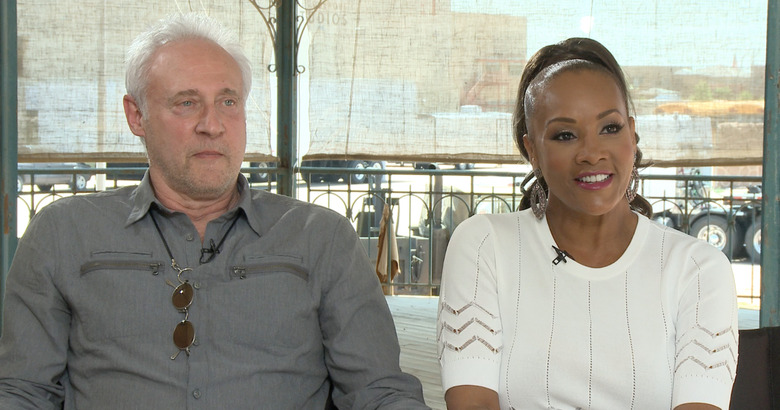 Even though Will Smith isn't returning for Independence Day: Resurgence, his on-screen wife Vivica A. Fox is back for the sequel, and her character Jasmine is doing everything she can to make sure their son Dylan (played by Jessie Usher) is just as strong of a man as his father.
In addition, Brent Spiner is one of the more surprising returning characters from the original movie, mostly because everyone had assumed the Area 51 scientist Dr. Okun was dead. And even though 20 years has passed, it doesn't sound like he's changed much over the years.
Both Brent Spiner and Vivica A. Fox sat down with me on the set of Independence Day: Resurgence last summer to talk about where we find their characters after all this time. Is Jasmine still stripping? Is Dr. Okun still a bit of a weirdo? Find out below.
For anyone who assumed Dr. Okun was dead, Spiner emphatically confirms, "Well that was wrong! What a stupid assumption!" But if you're looking for answers as to how Okun survived, there's only one proposed theory from the actor, and that involves Vivica A. Fox's character Jasmine, who is now a hospital administrator.
Beyond that, the actor doesn't really give away much of what Okun's role in the sequel will be other than the fact that he's working with Jeff Goldblum as part of the Earth Space Defense initiative. But he does provide some insight into his character's development when he says, "My character does not evolve, in terms of his brain. He's stuck in the '60s, and that's a nice place to be."
As for Fox's Jasmine, she's got her hands full raising her son Dylan on her own. At the time of this interview, we didn't know that Will Smith's character had died in the time since the first movie. But the explanation of her character's place in the narrative still stands as she says, "My son Dylan has grown up and he's now a fighter pilot. He's basically stepping into the shoes of Steven Hiller... and I am urging him to be a strong leader just like his dad was." Fox also adds that we'll feel Smith's character's presence in the film, though it remains to be seen just what that means.
For more from both Spiner and Fox, you can check out the full Independence Day Resurgence interview with both of them right here:
We always knew they were coming back. After "Independence Day" redefined the event movie genre, the next epic chapter delivers global spectacle on an unimaginable scale. Using recovered alien technology, the nations of Earth have collaborated on an immense defense program to protect the planet. But nothing can prepare us for the aliens' advanced and unprecedented force. Only the ingenuity of a few brave men and women can bring our world back from the brink of extinction.
Independence Day: Resurgence arrives on June 24. Be sure to check out our interviews with
and
, and stay tuned for more interviews with the rest of the cast very soon.