'Independence Day: Resurgence': Jeff Goldblum Doesn't Like Anybody Messing With The Planet [Interview]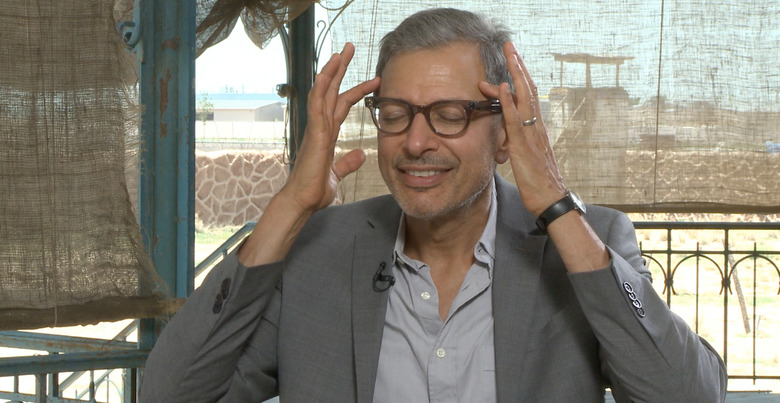 Sitting down with Jeff Goldblum is just as delightful as you would expect it to be. The Jurassic Park and Independence Day star endlessly affable and wonderfully quirky. When I sat down with Goldblum on the set of Independence Day: Resurgence last year, he began by asking my name, and ran through "Six Degrees" connection from my name to him through actors and movies. Sadly, not all of it was recorded, but it's probably one of the best things that has happened to me.
Anyway, after all that was done, we talked about him reuniting with director Roland Emmerich and producer Dean Devlin. This time his character David Levinson doesn't accidentally become humanity's last hope to defeat the aliens as he's been named the director of Earth Space Defense. And Goldblum says that it's his character's inherent and organic love for the planet that drives his outside-of-the-box thinking to help keep it safe.
Plus, since it took 20 years for him to return to Independence Day, what are the odds that the 20th anniversary of The Lost World: Jurassic Park coming up next year will convince him to deal with some dinosaurs again? Find out in the Jeff Goldblum interview below.
As the viral marketing for Independence Day: Resurgence has revealed on the War of 1996 website, the United States joined forces with countries from all over the world to create Earth Space Defense, a global initiative created in order to prepare the planet for the possibility of our alien enemies coming back to finish what they started. We asked Goldblum about this new program, which we just recently learned involved him founding a moon base in 2009, and he said:
Who do you think is the director of Earth Space Defense? I don't want to toot my own horn, but yes, they made me the director. How about that? That's a big career jump. I was working for that cable company and riding a bicycle. But of course, it sort of makes sense too. Because I was an environmentalist, wasn't I, which came from a deeply organic place. And I care deeply...about the planet, and the lifeforms on it, including all the animals too. And I don't like anybody coming and messing with it.
And since it took 20 years for him to return to Independence Day, what happens in 2017 when the 20th anniversary of The Lost World: Jurassic Park rolls around? Is there a chance he could return for Jurassic World 2? Goldblum says:
Oh, I don't know. I can't imagine. Who knows what the future holds?
You can check out the full interview with the incomparable Jeff Goldblum right here:
We always knew they were coming back. After "Independence Day" redefined the event movie genre, the next epic chapter delivers global spectacle on an unimaginable scale. Using recovered alien technology, the nations of Earth have collaborated on an immense defense program to protect the planet. But nothing can prepare us for the aliens' advanced and unprecedented force. Only the ingenuity of a few brave men and women can bring our world back from the brink of extinction.
Independence Day: Resurgence arrives on June 24. We'll have more interviews with the cast and crew in the coming days. Previously: the /Film interview with director Roland Emmerich.