Marvel & Coca-Cola Super Bowl Commerical: You Wouldn't Like The Hulk When He's Thirsty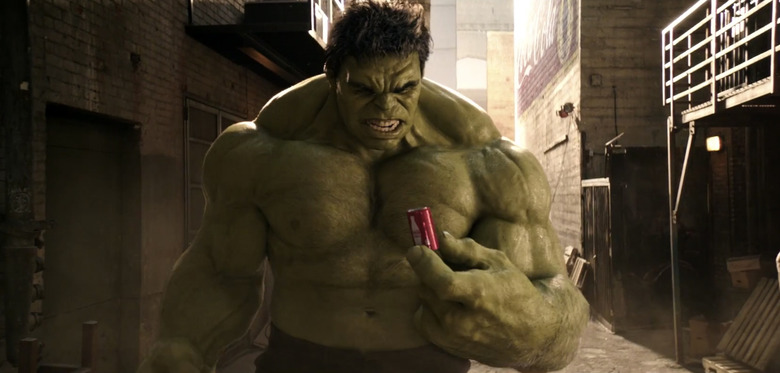 Not only was Super Bowl 50 rocked by a new tease of Captain America: Civil War, but Marvel Studios and Coca-Cola teamed up for a big advertisement during the big game as well. Even though you've probably already seen the ad that played during the Super Bowl, it's online for you to watch over and over again. Sure it's just an advertisement for corporate sugar water, but it features Hulk chasing Ant-Man for an ice cold can of Coca-Cola.
Here's the Marvel Coca-Cola Super Bowl commercial from Super Bowl 50:
That's definitely Paul Rudd voicing Ant-Man, but I don't know if Mark Ruffalo did any motion-capture or anything to bring Hulk to life for the advertisement. But if you're a collector of soft drink cans, there will be a chance to get your hands on a six-pack of Coke mini cans with Marvel characters on them. Advertising Age explains:
The Super Bowl campaign includes new limited-edition Coke mini cans that are emblazoned with images of Marvel characters, including Hulk, Ant-Man, Black Widow and Captain America. But the cans are not being sold in stores. To get a six-pack, viewers must look for hidden clues in the spot that will direct them on how to order a mini can online. Coke plans to assist consumers with the clues using its social media channels each day through Feb. 14. One clue in the ad, the web address HiddenMini.com, is hidden on a wall tagged with graffiti. That web adress auto-directs viewers to the Twitter handle: @AhhForce.
So stay tuned to that Twitter handle to find out how you can get ahold of those cans for your shelf. Otherwise, Captain America: Civil War opens May 6.
Marvel's "Captain America: Civil War" finds Steve Rogers leading the newly formed team of Avengers in their continued efforts to safeguard humanity. But after another incident involving the Avengers results in collateral damage, political pressure mounts to install a system of accountability, headed by a governing body to oversee and direct the team. The new status quo fractures the Avengers, resulting in two camps—one led by Steve Rogers and his desire for the Avengers to remain free to defend humanity without government interference, and the other following Tony Stark's surprising decision to support government oversight and accountability.
Marvel's "Captain America: Civil War" stars Chris Evans, Robert Downey Jr., Scarlett Johansson, Sebastian Stan, Anthony Mackie, Emily VanCamp, Don Cheadle, Jeremy Renner, Chadwick Boseman, Paul Bettany, Elizabeth Olsen, Paul Rudd and Frank Grillo, with William Hurt and Daniel Brühl.
Anthony & Joe Russo are directing with Kevin Feige producing. Louis D'Esposito, Alan Fine, Victoria Alonso, Patricia Whitcher, Nate Moore and Stan Lee are the executive producers. The screenplay is by Christopher Markus & Stephen McFeely.