'Gods Of Egypt' Super Bowl Spot: Bow Before Gerard Butler Or Die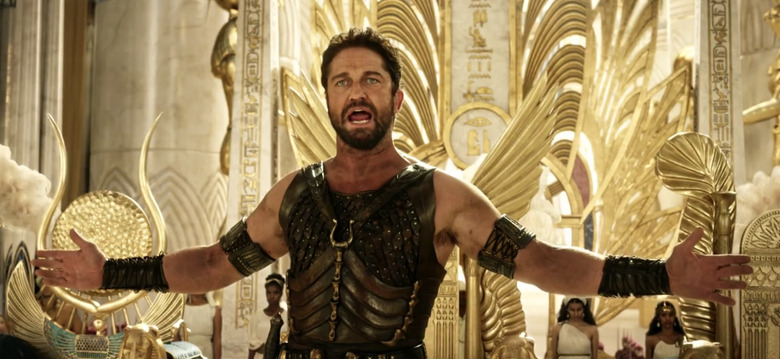 If Gerard Butler screaming as a power-hungry god along with tons of crazy creatures flying around and destroying things doesn't get you interested in Alex Proyas' action epic, then nothing will. Lionsgate has just debuted a 60-second Super Bowl spot for Gods of Egypt, attempting to get the crowd that loves both football and 300 on board this positively insane looking movie. There's a good chance it just might work. Watch the Gods of Egypt Super Bowl spot after the jump.
By no means does this movie look like it's going to blow everyone away. But there's something somewhat alluring about a movie that feels like 300 had a baby with Clash of the Titans and gave it a whole bunch of cocaine. Plus the movie has all the right cast members in place.
There's Gerard Butler yelling like a beast of a warrior. Game of Thrones fans might take a second glance with Nikolaj Coster-Waldau having a key role. Brenton Thwaites is there to maybe get the younger crew interested, as well as Daredevil's own Elektra, Elodie Yung, summoning creatures to do her bidding. And you can't go wrong with Geoffrey Rush in a movie like this. Plus, there's Chadwick Boseman, who might give us a taste of the kind of action we'll see him tackle in Captain America: Civil War this summer.
If anything, this movie has me interested to see what a director like Alex Proyas could do with something that has a little more substance and doesn't feel like a recycled epic that we've already seen, just with more advanced visual effects. If you want to see more, check out the recently released international trailer right here.
In this spectacular action-adventure inspired by the classic mythology of Egypt, the survival of mankind hangs in the balance as an unexpected mortal hero Bek (Brenton Thwaites) undertakes a thrilling journey to save the world and rescue his true love. In order to succeed, he must enlist the help of the powerful god Horus (Nikolaj Coster-Waldau) in an unlikely alliance against Set (Gerard Butler), the merciless god of darkness, who has usurped Egypt's throne, plunging the once peaceful and prosperous empire into chaos and conflict.  As their breathtaking battle against Set and his henchmen takes them into the afterlife and across the heavens, both god and mortal must pass tests of courage and sacrifice if they hope to prevail in the epic final confrontation.
Gods of Egypt opens on February 26.