'Interstellar' Cinematographer Hoyte Van Hoytema Reuniting With Christopher Nolan For 'Dunkirk'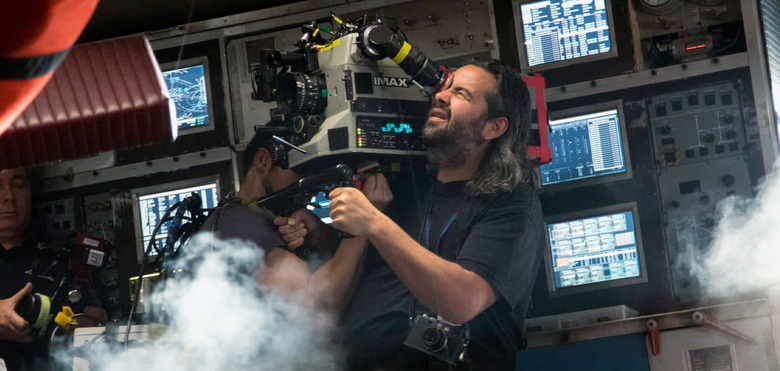 Christopher Nolan's next movie, the World War II action thriller Dunkirk, will already serve as a reunion for several of the filmmakers previous collaborators. Tom Hardy is slated to star in the film and Hans Zimmer will compose the score. And now one more name who has worked with Nolan preivously has come on board the project as well.
Instead of going with his usual director of photography Wally Pfister, Nolan made Hoyte van Hoytema his Interstellar cinematographer. And now van Hoytema has been confirmed to reunite with Nolan for Dunkirk as well.
The news comes by way of an announcement from the American Society of Cinematographers adding van Hoytema to their member roster (via The Film Stage). The ASC included a little blurb on van Hoytema saying that he's "currently prepping an untitled feature for director Christopher Nolan, with whom he first collaborated on Interstellar." And using simple deductive reasoning, we know that film to be Dunkirk.
Details on original screenplay inspired by a true story just surfaced before the end of 2015, revealing that the film focuses on Operation Dynamo, which saw British Expeditionary Force (BEF) and other Allied troops evacuated from the French seaport of Dunkirk in May and June of 1940.
In addition to Tom Hardy, the cast has also been said to include Mark Rylance (Bridge of Spies) and Kenneth Branagh, both working with Nolan for the first time. But the lead characters are supposed to be played by unknown teenage actors, which Nolan has been looking for in London for a little while now.
Production is slated to begin in May overseas with Nolan continuing his work on real film by employing a combination of IMAX 65mm and 65mm large format film, "for maximum image quality and high impact immersion." We wouldn't expect anything less from Nolan, the man who has taken great strides to keep celluloid alive in Hollywood.
Knowing what van Hoytema achieved with Interstellar, I'm very excited to see what he can do with a war drama like this, especially with 65mm large format film. The cinematographer has also done outstanding work on films like Tinker Tailor Soldier Spy and Spectre, both of which could also give us a good idea of what to expect with Dunkirk. But for now, we'll play the waiting game until the film hits theaters on July 21, 2017.