Ethan Hawke Has '24 Hours To Live', May Reprise 'Training Day' Role For TV Series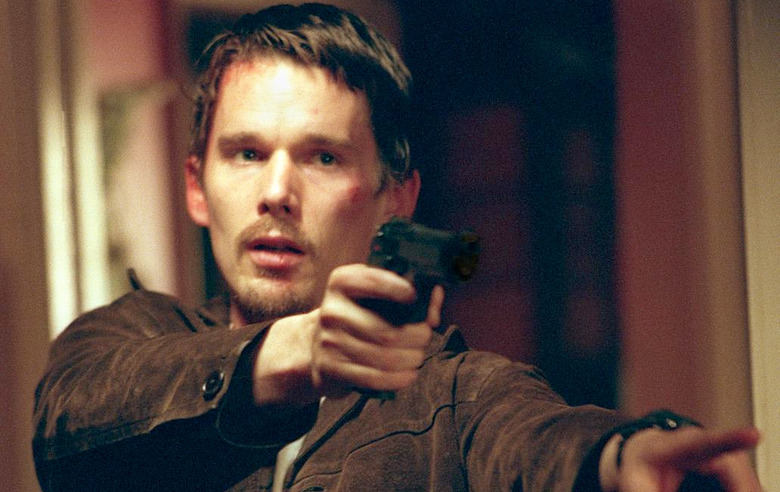 Just a few days ago, the folks over at The AV Club wrote some more than kind words about Ethan Hawke, proclaiming him to be our greatest genre star right now, simply because he puts in admirable work into every performance. When you look at his body of work, it's hard to argue with that. Even if the films he has chosen to make don't turn out to be stellar, you'd be hard-pressed to find a performance where Hawke doesn't give 100%. And now we may have the pleasure of seeing him reprise one of his more praiseworthy roles.
Ethan Hawke has been approached to reprise his role as detective Jake Hoyt from the 2001 crime thriller Training Day in the developing CBS television series adaptation of the film. This would turn the series into a sequel of sorts instead of just a reimagining of the film for TV. In addition, he's also landed himself another genre role in an action thriller called 24 Hours to Live. Find out more about the potential of Ethan Hawke joining the Training Day TV series and this new movie role below.
Deadline has the news on Hawke potentially joining the Training Day TV series at CBS, but it's important to note that he's only been approached about the possibility of reprising his role, and there's no indication as to whether he's in talks to make it happen or if he actually has any interest.
For those who don't know, the developing Training Day series is meant to take place 15 years after what happened in the film. We'll follow an idealistic young African-American police officer, Kyle, who is given an assignment by the Deputy Chief to go undercover with an elite squad of the LAPD and take down a morally ambiguous Caucasian detective, gaining the trust of the seasoned cop by becoming his new partner. It's basically a race-swapped adaptation of the movie.
If Hawke were to join the show, it would likely be a recurring, supporting role as the Deputy Chief. However, there was a version of the script that was written with the intent of getting Hawke's interest for the larger role of that corrupt detective that the young officer Kyle would be trying to take down through infiltration. But this was something Hawke wasn't super keen on, so now the corrupt cop role will be given to a new character instead of Hoyt.
It's probably for the best that Hawke wasn't interested in the other route. After all, turning Hoyt into the kind of corrupt cop that he resisted in Training Day would really undo his character's integrity. That might be a powerful device to show just how corrupt the city of Los Angeles can be, but I get a little leery when it starts messing with the impact of what we saw unfold in the film.
Should Hawke take the supporting role, he would like to occasionally pop up on the series in the same capacity that Bradley Cooper has done on the CBS series adaptation of Limitless. But at this time, the Deputy Chief role is written to be a little more prominent, so Hawke may not be able to fit it into his schedule.
Speaking of which, according to THR, Hawke has just lined up a new action thriller called 24 Hours to Live. The film would see Hawke playing a career assassin who is given a chance at redemption after his employer brings him back to life temporarily, just after being killed on the job.
Stunt coordinator and second unit director Brian Smrz, who has worked on X-Men: Days of Future Past and Iron Man 3, would be at the helm of the film with a script from Ron Mita & Jim McClain (S.W.A.T.) recently updated by Zachary Dean.
The film is making the rounds at the European Film Market in Berlin, so there's a chance that we may never hear about it again. That may not be bad, because it sounds a little too derivative for my tastes and sounds like the kind of film that could get lost in the bargain bin, but if anyone can make it work, it's Hawke.