Cyclops Print Works Reveals Snazzy New 'Inside Out' And 'Snow White' Posters (And They Go On Sale Today)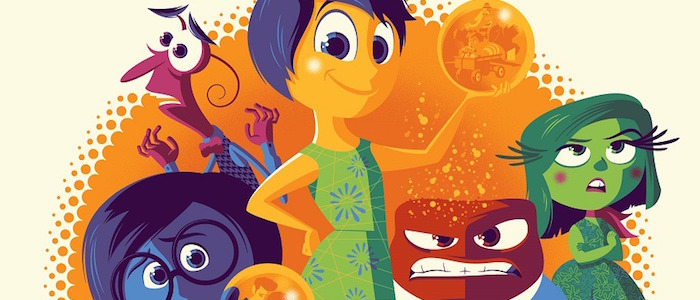 A new batch of posters inspired by Disney's Snow White and the Seven Dwarfs and Pixar's Inside Out have been revealed and they gone on sale today. If you're an animation fan, an appreciator of pop culture art, and currently have some blank walls in your home that could use a little color, you should take note. These prints are limited editions, so they won't last forever. Here's what you need to know.
All three posters are the work of the still relatively new Cyclops Print Works, who have been releasing their fair share of cool Disney and Pixar art. You can peruse their latest releases in the gallery below:
The Snow White and the Seven Dwarfs print is by Robert Ball, who is best known for his "Beautiful Death" series inspired by HBO's Game of Thrones. This poster measures 18" x 24", will cost you $55, and will be a limited edition of 200.
The first Inside Out poster is the work of Tom Whalen, whose distinctive style has been seen in countless other Disney and Pixar-related posters over the years. This one measures 24" x 36", costs $65, and will be a limited edition of 330.
The Bing-Bong poster of Dave Perillo. It measures 10" x 20", costs $45, and will be limited to 250 prints.
The Disney Insider Blog caught up with Whalen, who explained his process for creating a poster that summed up everything special about Inside Out:
I arrived at the final design you see after a longer-than-usual experimentation process. I can usually distill the essence of a film pretty quickly, but Inside Out proved a bit more challenging. I recall watching the film for the first time and enjoying all of the metaphor that was at play between the way the emotions behaved and Riley's actions. I wanted a little bit of that metaphor to come into play in this poster. Overall, this was a project that asked me to dig a bit deeper in order to produce an end result that's worthy of an incredible film.
Perillo also offered insight into how his print came into being, but he doesn't apologize in advance for designing a silly, colorful poster that will make you want to burst into sloppy, horrible tears every single time you walk by it:
After seeing Inside Out, Bing Bong was my favorite part of the movie. I found it so interesting exploring what becomes of a child's imaginary friend as she would get older. I wanted to approach this piece in the style and tone of a children's book, something that you might see in a vintage Golden Book. The biggest challenge was translating a three-dimensional animated character to work as a flat two dimensional imagery.
All three posters go on sale today, February 5, 2016 at 12:00 P.M. PST at the Cyclops Print Works website. Since each of these posters will only exist as part of a limited printing, you may have to move quickly and be on point if you want to snag one.