'The Brothers Grimsby' Clips: What If James Bond Teamed Up With A Grotesque A-Hole?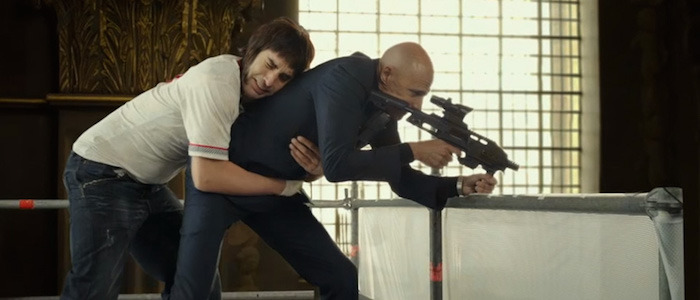 The Brothers Grimsby, or Grimsby, depending on which side of the Atlantic you call home, certainly sounds amusing enough. Mark Strong is England's top spy, an unstoppable James Bond type with all of the skills you'd find in a movie action hero. Sacha Baron Cohen is his loser brother, a disgusting soccer hooligan. Naturally, the two of them are thrust together to save the world from a villainous plot of some kind. But in terms of execution... Well, let's just say that the marketing hasn't been particularly inspiring.
Sony has released a batch of new clips from the film, as well as a few "red band TV spots" (how is that a thing?), to promote the film's U.K. release. Hence the Grimsby instead of The Brothers Grimsby. You can check them out below, if that sounds like your kind of thing.
Each of these three new clips is nastier than the last, leaning hard on the gross-out humor. If you want Rebel Wilson making queefing jokes, boy, do we have the movie for you!
The Brothers Grimsby is the latest film from director Louis Leterrier, a filmmaker best known for helming action films like The Transporter, The Incredible Hulk, and Clash of the Titans. To his credit, this actually does look enough like a proper spy movie to help sell the ludicrous jokes, which come off extra-silly when they're shot like this. Unfortunately, most of the jokes on display here fall flat. There was a time when Cohen was a comic master in the making, a comedian who wielded subversion like a knife. The Brothers Grimsby looks crude for the sake of being crude. Maybe there's a point here, a target truly worthy of mockery, but we don't see it yet. Cohen used to be at his best when you gave him a proper opponent to rail against and to mock.
But we'll say this much: one of the TV spots below has a really good FIFA joke. Here's the official synopsis:
Nobby (Sacha Baron Cohen), a sweet but dimwitted English football hooligan, reunites with his long-lost brother Sebastian (Mark Strong), a deadly MI6 agent, to prevent a massive global terror attack and prove that behind every great spy is an embarrassing sibling. Nobby has everything a man from Grimsby could want: 11 children, the most gorgeous wife (Rebel Wilson) in the northeast of England, and numerous welfare scams that keep the checks rolling in. There's only one thing missing: his little brother, Sebastian, whom Nobby hasn't seen in 28 years. Nobby sets off to reunite with Sebastian, unaware that not only is his brother MI6's deadliest assassin, he's just uncovered plans for an imminent global terrorist attack. On the run and wrongfully accused, Sebastian realizes that if he's going to the save the world, he's going to need the help of its biggest idiot.
The Brothers Grimsby/Grimsby opens on February 24, 2016 in the U.K. before invading American cinemas on March 11, 2016. You can watch that trio of new TV spots, two of them very much NSFW, below.