Jonas Cuarón To Write And Direct 'Z,' A Zorro Movie Without The Orro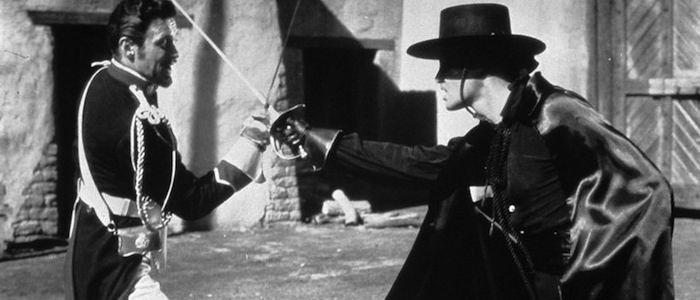 It's been a decade since The Legend of Zorro came and went, ending Antonio Banderas' run as the famed masked hero. Since then, reports of a new movie starring the iconic swordsman have arrived like clockwork, only for the actual film to fail to materialize. Remember when Gael Garcia Bernal was supposed to play Zorro in a futuristic riff on the character called Zorro Reborn that would have taken place in the post-apocalypse? Meanwhile, a completely different Zorro movie has been in development at Sony for a few years now.
Now, word has come down that Jonas Cuarón, the co-writer of Gravity and the director of the upcoming Desierto, has been been tasked with resurrecting that futuristic Zorro tale with Z, which is one of those weird titles that seems oddly embarrassed of the character it's representing. Just call it Zorro, guys.
The news initially broke over at Heroic Hollywood but it was quickly confirmed by The Wrap. Neither source could provide details about the project, but it will apparently be a "fresh take." Whatever that means.
Cuarón is still a relative newcomer on the filmmaking scene. Although the bulk of his credits are for shorts, he wrote and directed the drama Year of the Nail in 2007 before teaming up to co-write Gravity with his father, the Oscar-winning director Alfonso Cuarón. Jonas Cuarón also directed a companion short to Gravity, titled Aningaaq, before helming the border-crossing thriller Desierto, which is set for a March release.
The Hollywood Reporter's Borys Kit chimed in on Twitter with a few details about Z, saying that the film will have minimal connections to previous versions of Zorro Reborn:
Update on the Zorro project: being told Jonas Cuaron supposedly starting from scratch. To be his vision and not a take on Zorro Reborn.

— Borys Kit (@Borys_Kit) February 4, 2016
Although to be set in near future.

— Borys Kit (@Borys_Kit) February 4, 2016
My gut reaction to a "futuristic Zorro movie" is to roll my eyes. After all, Zorro is a character who exists organically in a specific time and place. Remove him from Mexican- or Spanish-ruled California in the mid-19th century and you have just another tough vigilante dressing in black and sticking to the man. The historical nature of Zorro's adventures always lent them a certain amount of power. Moving Zorro to the future seems a little desperate and a little wacky, the kind of decision that you see being made in satires about Hollywood.
And yet, I can't help but think Cuarón may have something up his sleeve. Sure, this new Zorro could be just another action hero fighting and slicing his way through a near future dystopia, but here's a filmmaker who already built an entire thriller around an immigrant experience. We wouldn't put it past to put his personal stamp on this concept. After all, in an age where Donald Trump gets headlines for talking about building a wall along the Mexican border, a Mexican filmmaker may find a very pointed use for a Mexican hero with a thing for toppling authority.