The Force Awakens Bits: The Secret Writing On Poe Dameron's Vest, Visual Effects Society Awards, And More LEGO Star Wars News Than You Know What To Do With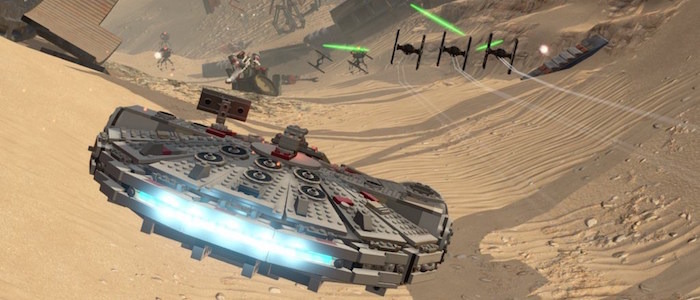 We may receive a commission on purchases made from links.
Welcome back to The Force Awakens Bits, which will continue to provide you with Star Wars: The Force Awakens news until Rogue One shows up and diverts our attention completely. In today's edition:
The Force Awakens performs quite well at the Visual Effects Society Awards.
John Boyega and Daisy Ridley get the Most Important Nominations of Them All.
American Cinematographer puts The Force Awakens on its cover.
The mysterious writing on Poe Dameron's flight suit, revealed!
The Force Awakens nears its next box office milestone.
And a whole bunch of new stuff related to LEGO Star Wars: The Force Awakens.
Star Wars: The Force Awakens made a strong showing at the 2016 Visual Effects Society Awards, winning four of its seven nominations. These awards are fun and fascinating because of how specific they can get, often awarding distinct elements of specific scenes. For example, one of the film's wins went to the virtual cinematography seen in the battle between the Millennium Falcon and the TIE Fighers on Jakku. Here is the complete list of Star Wars winners:Outstanding Visual Effects in a Photoreal Feature
Star Wars: The Force Awakens
Roger Guyett
Luke O'Byrne
Patrick Tubach
Paul Kavanagh
Chris Corbould
Outstanding Virtual Cinematography in a Photoreal Project
Star Wars: The Force Awakens; Falcon Chase / Graveyard
Paul Kavanagh
Colin Benoit
Susumu Yukuhiro
Greg Salter
Outstanding Created Environment in a Photoreal Feature
Star Wars: The Force Awakens; Falcon Chase / Graveyard
Yanick Dusseault
Mike Wood
Justin van der Lek
Quentin Marmier
Outstanding Models in a Photoreal or Animated Project
Star Wars: The Force Awakens; BB-8
Joshua Lee
Matthew Denton
Landis Fields
Cyrus Jam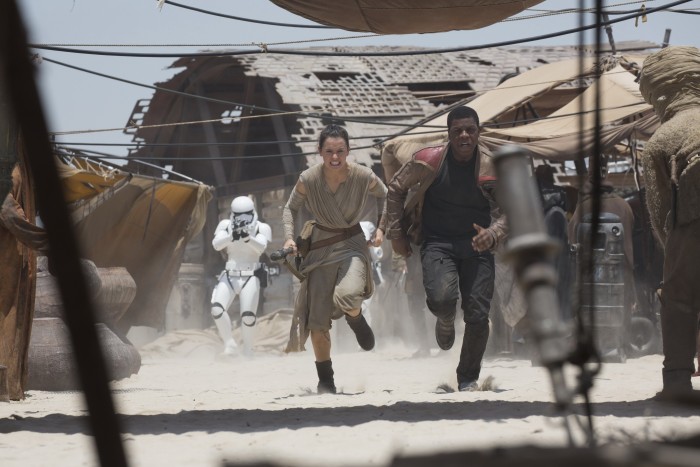 Speaking of awards, John Boeyga and Daisy Ridley have been nominated for Kids' Choice Awards for their work in The Force Awakens, which is surely the most prestigious honor of them all. If you are a small child or the kind of vindictive adult who wants to ensure the victory of Star Wars at all costs, you can vote for them right here.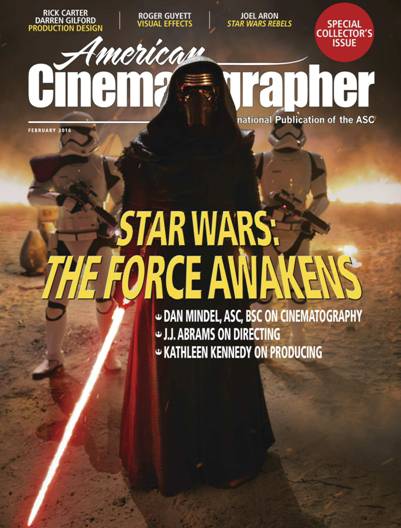 The latest issue of American Cinematographer has dedicated its cover to The Force Awakens and it's available for purchase right now. Here's what you can expect if you pick this thing up:
The force is strong with American Cinematographer's just-released February issue, which goes behind the scenes of Star Wars: The Force Awakens to provide an in-depth look at the making of the record-breaking box-office blockbuster. The magazine was granted special access to the production during filming at Pinewood Studios and conducted comprehensive interviews with the filmmakers, including cinematographer Dan Mindel, ASC, BSC; director J.J. Abrams; Lucasfilm President Kathleen Kennedy; and several of the show's key department heads. The special collector's edition is illustrated with a trove of exclusive production stills, behind-the-scenes photos and concept art from the film.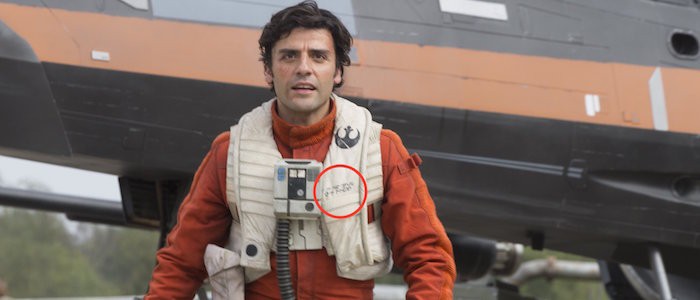 The humans of the Star Wars universe may speak English, but all of their text is presented in a fictional language called Aurebesh. Naturally, charts exist to help you translate this made-up text, just in case you want to know exactly what's written on any given object in any of these movies. For example, one intrepid fan set out to discover what's written on Poe Dameron's flight vest. After discovering that the text was upside down (so the pilot could look down and read it), it was revealed to read... "Pull to inflate." Yes, it's a life jacket. Nothing more to see here. Move along.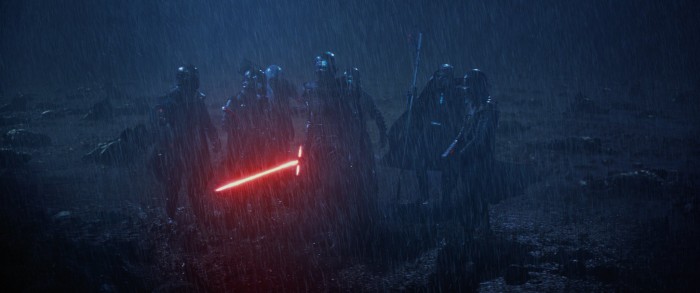 For those keeping score at home, it looks like The Force Awakens will finally break $900 million at the domestic box office this Friday, which will probably be one of its final financial milestones. It should have strong enough legs to ultimately land somewhere between $930 million and $950 million, but hopes of a $1 billion domestic total have been effectively dashed at this point. Meanwhile, The Force Awakens just became Japan's biggest hit since Frozen, passing $83 million (approximately 9.7 billion in Japanese Yen) at the box office.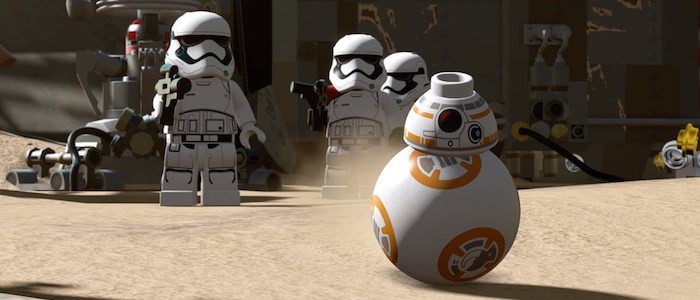 We already know that LEGO Star Wars: The Force Awakens video game is on the way and that it will actually help bridge the gap between Return of the Jedi and The Force Awakens. That's more than a little crazy, when you consider how tightly the Lucasfilm Story Group control the new canon. In case you missed it, here's the trailer:
But we're gathered here today because there's even more LEGO Star Wars news for you to do with as you please. A new batch of images from the game have arrived online, teasing LEGO versions of Rey, Finn, BB-8, and the rest of the gang. I'm of the opinion that LEGO Chewbacca looks a little funky, but hey, that's the price you pay when you have to transform iconic movie characters in digital renderings of tiny plastic figures.
So far, the marketing has emphasized characters, locations and sequences from The Force Awakens, which makes us wonder exactly how much time will actually be spent during that 30 year gap between movies. And even then, will they actually tell us anything about the state of the Star Wars universe or will they just be silly one-off levels that pander to the already-initiated?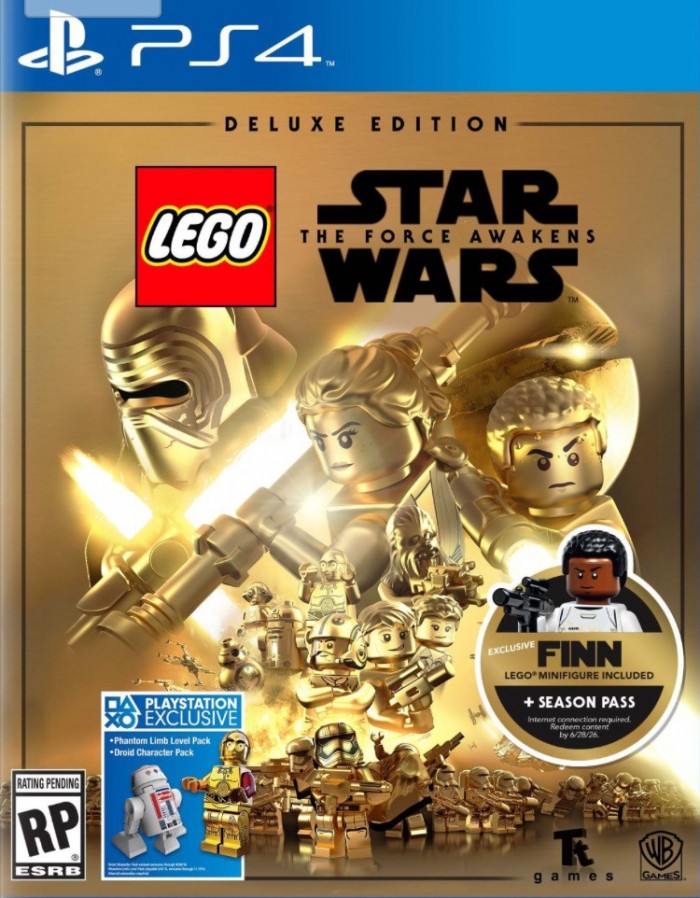 Meanwhile, Amazon has revealed the box art for the deluxe edition of the game, which will come with additional "season pass" content, a few extra playable characters, and Finn minifig for you to lose under your couch somewhere.
If you want to know more, Game Informer has revealed that the game will be the subject of an upcoming cover story, teasing their coverage in the video above and showing off new a new look at the LEGO-ized cast in the cover images below.
And finally, it looks like LEGO Star Wars: The Force Awakens will have a little bit of authenticity as John Boyega revealed on Twitter that he will be reprising the role of Finn in the game. With this kind of boundless enthusiasm, Boyega could very well be to Star Wars what Tom Hiddleston is to Marvel –the guy who gleefully participates in whatever is asked of him by the company. Anyway, here's our customary reminder should really go watch Attack the Block because Boyega is amazing in it (and because it's an amazing movie).
Out of all that I had foreseen or hoped this wasn't one of them! Had an amazing time reprising my role as Finn #LEGO pic.twitter.com/3xHzh5ZzCl

— John Boyega (@JohnBoyega) February 2, 2016