'Teen Titans' Still Breathing, 'Manhattan' Canceled As The TV Gods Giveth And Taketh Away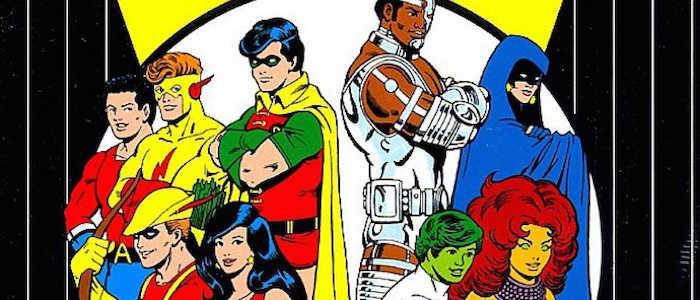 Television is a fickle mistress. Here is a creative medium that places every possible roadblock in your way and then still finds a way to trip you after you've seemingly cleared every hurdle. And yet, some shows can recover when they have the right champions, like DC's planned Teen Titans series, which may not be as dead as previously indicated. Meanwhile, WGN has officially pulled the plug on the critically acclaimed but under-watched Manhattan, retroactively transforming its season two finale into a series finale.
Let's start with the more hopeful news. TV Line caught up with DC Entertainment CCO Geoff Johns, who has grown from a hugely successful comic book writer to one of the company's main public figureheads, and received word that the company is still moving forward with a Teen Titans series despite TNT passing on the project:
We [at DC] have known about [Turner nixing Titans] for months and months and months. That's not new news to us ... We have plans for Titans. It's a huge piece of DC and we have plans.
With The Flash, Arrow, Supergirl, Legends of Tomorrow, Agent Carter, and Agents of S.H.I.E.L.D. all winning over comic book fans and norms alike, superhero TV shows have never been hotter. Teen Titans, which stars a collection of the DC universe's younger heroes, will most likely find a home elsewhere. However, we have to hand it to TNT honcho Kevin Reilly, who issued this statement on the network's decision and was brutally honest about his decision:
[Writer] Akiva [Goldsman] is a talented guy, [but] the script just wasn't there. There is an unbelievable glut of superhero things in the market right now and if you have a really good one, clearly people are up for it. But I just don't think that there's a need for one that, for me, at least on paper didn't seem to be screaming to get made.
A few channels and a few genres away, WGN"s ambitious drama series Manhattan has met an unfortunate and early end. Despite a killer concept – the series followed real and fictional scientists as they secretly build the first nuclear weapon in the final years of World War II – the show never really struck a chord with a wide audience. It's possible to imagine an alternate universe where this became the new Mad Men, transforming WGN into the new AMC. But alas. Here is WGN America president Matt Cherniss on the decision:
After careful consideration, we have reached the very difficult decision not to move forward with a third season of Manhattan. We are proud of this critically acclaimed series, an extraordinary original drama, and are deeply disappointed that such a wonderful show could not find a larger audience. We thank the immensely talented Sam Shaw and Thomas Schlamme, along with the exceptional cast and crew and our great partners at Lionsgate and Skydance, for crafting a masterful series. We are equally grateful to the dedicated fans for their support over the last two seasons.
In the meantime, WGN will just have to lean on Salem all the harder.