This 'Agent Carter' Visual Effects Reel Shows Off A Marvel-Ous Digital New York City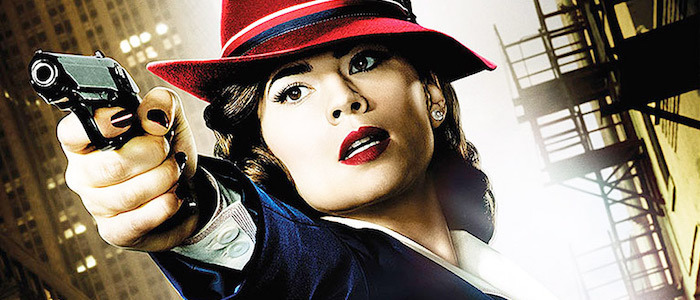 These days, I'm often more blown away by subtle and invisible special effects that call no attention to themselves than anything else. Sure, your CGI monsters can look cool and some of the work being done with motion capture technology is nothing short of astonishing, but those kinds of visual effects always look like visual effects. In the back of your brain, you just know you're looking at something crafted in a computer, no matter how genuinely impressive it is.
And this is why I enjoyed this new Agent Carter visual effects reel so much, which reveals that the 1946 New York City of the show's first season was almost entirely digital... and you really don't notice until it's pointed out to you.
This 11-minute reel was released by Marvel after Agent Carter to honor the show's nomination at this year's Visual Effects Society awards. Here's the company's statement:
The Visual Effects Society has honored the effects wizards behind Season 1 of "Marvel's Agent Carter" with a nomination in the 14th Annual VES Awards, and in honor of that we're bringing you a special behind-the-scenes look at the incredible work they did to bring 1940s New York to life.
On the surface, Agent Carter seemingly has fewer visual effects than any other show or movie set in the Marvel Cinematic Universe. It doesn't have the scope or grandeur of the films and its action set pieces tend to be a little grounded and straightforward than those seen on Agents of S.H.I.E.L.D. and Daredevil. And yet this reel shows off an astonishing amount of invisible work. There may not be an army of computer generated aliens here, but there is an entire city that has to be exactingly recreated, which means every window, reflection, and skyline needs some digital assistance.
Although it's easy to associate these kinds of special effects with science fiction, fantasy and action movies, CGI has been a bit of a godsend for television shows set in period settings. Agent Carter didn't have the budget or the time to build era-appropriate sets, so a team of VFX geniuses stepped up to the plate and took on the thankless task of creating something old and familiar that everyone watching will take for granted.
I'm also reminded of the visual effects on Boardwalk Empire, which transformed barebones sets into flawless recreations of prohibition-era Atlantic City:
And you can take this beyond the 20th century, as seen in the effects reel for HBO's John Adams miniseries:
Agent Carter is currently in the middle of its second season. Watch the next episode and appreciate just how much work goes into making every single shot feel like it belongs in the show's world.