The Final 'Zoolander 2' Trailer Wants You Relax, Don't Do It, Etc.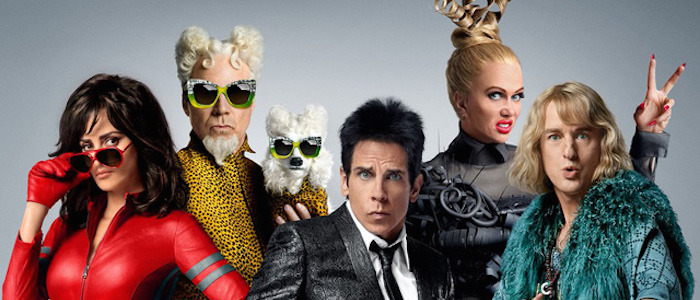 The existence of Zoolander 2 becomes really interesting when you remember that the first film was not a big hit. Released during a window when no one in the world was in a laughing mood (September 2001), Ben Stiller's goofy male model comedy only made $60 million worldwide against a budget of $28 million. Zoolander could have remained buried and totally forgotten, but the ensuing years were kind to the film as it developed a huge following on home video. And that's why, 15 years later, a sequel is on our doorstep.
And now, the final Zoolander 2 trailer has arrived and it brings with it a number of questions. Will this sequel find the box office success that escaped the first film? More importantly, will it prove itself to be a worthy follow-up?
Set to a remix of "Relax," this trailer dodges plot of any kind and simply bombards you with joke after joke and gag after gag. Outrageous fashions! Ridiculous poses! Selfie stick shenanigans! Will Ferrell being Will Ferrell! You know, the usual.
We know from previous trailers and TV spots that the plot of Zoolander 2 once again finds aging male models Derek Zoolander (Stiller) and Hansel (Owen Wilson) pulled into the world of international espionage. Once again, their general idiocy is canceled out by their access to the fashion world, which is seemingly the key to foiling dastardly plots of any kind. Ferrell's Mugatu is back, but he has a new companion in the form of Kristen Wiig's Alexanya Atoz. Oh, and Penelope Cruz gets to play the serious secret agent whose main job involves looking really horrified by the many wrongheaded decisions Derek and Hansel make at every turn.
And it all looks like more Zoolander, for better and the worse. I've always been a little cooler on the original film than many people, but it has its fair share of belly laughs and memorable moments. I'm just a wee bit skeptical that there are still jokes to be wrung from this concept. However, Stiller's directorial chops have grown significantly since he helmed the first film, so I'm very interested to see how he tackles this material now that he has more experience behind the camera. No matter what happens, we will always have Tropic Thunder.
Zoolander 2 opens on February 12, 2016. It also features Olivia Munn, Benedict Cumberbatch, Christine Taylor, Billy Zane, Macaulay Culkin (!), Ariana Grande, Justin Bieber, Demi Lovato, and Kim Kardashian, which sounds like a bunch of names drawn randomly from any given YouTube comment thread than an actual cast.