George Miller Talks 'Mad Max,' His Canceled 'Justice League' Movie, And His Friendship With Stanley Kubrick In A Must-Read Interview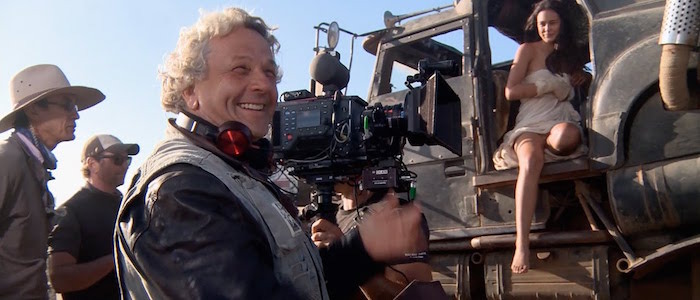 George Miller is a fascinating man.
Decades before directing one of the best movies of 2015 and earning an Oscar nomination for his efforts, he was a doctor working in Sydney, Australia who practically stumbled into filmmaking with the original Mad Max. Between now and then, he's written, produced and directed mainstream successes and cult favorites alike, experimenting in various mediums and never settling on a single genre. And in a new interview, he opens up about his life and career in a big way, talking about Mad Max: Fury Road and Babe and his canceled Justice League movie and his relationship with Stanley Kubrick and so much more.
The interview with Miller was conducted by The Hollywood Reporter's Stephen Galloway as part of their The Hollywood Masters series and it's one hell of a read. If you have some time, you really owe it to yourself to sit down and read through the whole thing. However, I've collected a few tasty highlights below.
When asked how the same person could make cheerful family movies and violent post-apocalyptic action films, Miller explained that his interest lies in stories, not in a certain kind of story:
Ah gee, even my mother asked me that. She saw Fury Road and she said, 'George, I sort of get Happy Feet.' She said exactly that: 'Where does it come from?' I guess it's a number of things. I think storytelling, and storytelling through cinema. I'm really, really interested in film language. And I like playing with the tools. Most of all it's the storytelling, [and] to the extent that they're kinetic or violent, they are moving pictures. I know that the very first Mad Max was processing the kind of experience I had in hospitals, working as a doctor.
When the subject turned to Babe (Miller co-wrote and produced the original and directed the sequel), he described reaching out to the great Stanley Kubrick for advice on how to make the film. After all, making live action animals speak realistically required new technology at the time and Kubrick was always looking to push film tech to the next level. In their conversations, Kubrick also revealed a very interesting strategy for finding new material for his movies:
I explained we're trying to make a pig talk. He was particularly caught up with the technology of not cutting on videotape. But he was one of those people who just kind of sucked in the world by conversations. Every night, we'd sit and talk for a long, long time and talk about the process and I knew he was very, very intrigued about what could be happening. Then of course, one of the fascinating things he told me about was how he had readers who were reading for him that never knew it was Stanley Kubrick. So if he heard of a novel, he would send it out to people. I think he did it through newspaper ads at the time. And he would send it out to people and ask for a kind of synopsis or a critique of the novel. And he would read those. And it was done anonymously. But he said there were housewives and there were barristers and all sorts of people doing that. And I thought, yeah, that's a really good way to open up the possibilities. Because otherwise, you're randomly looking [for material], walking through a bookstore or an airport.
The interview also found time to touch on Miller's Justice League movie, which came this close to filming before getting shut down for reasons that actually aren't that exciting (which somehow makes it even more of a bummer):
Justice League was the main one. That was, oh, seven years ago, I think. And there was a really great script. And Warners said, 'Let's do it. Let's do a Justice League.' I really was attracted to it. But there was a writers strike looming. We had to cast it very quickly, which we did with Warner's casting people. And we cast it really quickly and we mounted it very quickly. And it depended on a start date and it depended on some basic rebate legislation that had just got through a new Australian government. But it was just too big a decision for them to make in the time. And that fell through and the whole film fell through. We almost got there. And it wasn't to be. But that happens a lot, where films line up and the stars look like they're aligning and they didn't.
One of the most unexpectedly fascinating segments of the interview involves Miller's time with The Witches of Eastwick, which was a miserable experience that saw him running up against every single negative cliche about Hollywood. After helping trim the budget by giving up his trailer and other personal expenses he did not need, Miller found his relationship with the producers deteriorating, leading to some fascinating advice from star Jack Nicholson:
That was really interesting. And I was always seen as being very polite. And they mistake politeness for weakness. That's what Jack told me. He said, 'Be careful. They mistake your politeness for weakness.' And he said, 'You've got to make them think you're a little bit crazy.'
Mad Max: Fury Road is nominated for 10 Academy Awards. A sequel is in the works, but Miller wants to make something a little smaller first.