'Ghostbusters' Images Find Chris Hemsworth Doing His Best Annie Potts Impersonation; First Trailer Coming Soon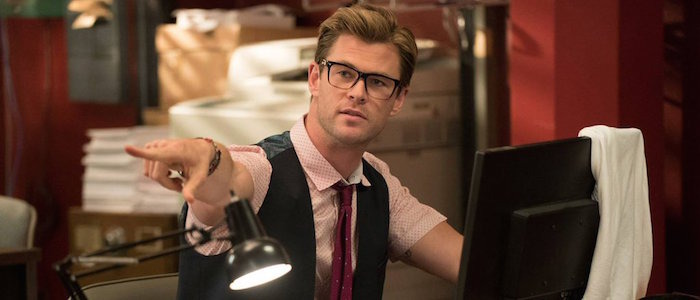 And like that, the Ghostbusters marketing engine starts to lurch into motion.
Director Paul Feig's instantly controversial (for the right and wrong reasons) remake hasn't been completely shy – we've seen several images of the new Ghostbusters in their snazzy new uniforms as well as a handful of character posters. However, a new batch of cast pictures, including our first official look at Chris Hemsworth as the team's secretary, have arrived and the film's official website has launched and a rough release date for the first trailer has been revealed. We're a little over five months away from this movie hitting theaters and Sony is about to make sure you and everyone else is aware of it.
The images were initially revealed by Ghostbusters News and they give each of the film's five leads a nice close-up. There's Kristen Wiig's Erin Gilbert, Melissa McCarthy's Abby Yates, Kate McKinnon's Jillian Holtzmann, Leslie Jones' Patty Tolan, and Chris Hemsworth's Kevin, a.k.a. the Blond Eye Candy.
Although it's impossible to say anything definitive about this film or its characters based on a series of stills, I'll say this much: McKinnon's bizarre fashion sense once again looks to be on point and I'm pleased to see McCarthy once again dropping her slob act. It's her default comedy mode, but she is a far more nuanced performer than that. In fact, Paul Feig allowed her to showcase intelligence and capableness in their previous collaboration, last year's hugely underrated Spy, and he looks to continue bringing out the best in her. Toss in the the always welcome Wiig and Jones (who regularly steals scenes from stars on Saturday Night Live) and you have a cast worth getting excited about.
Speaking of Feig, the director jumped on Twitter to let everyone know that the film's official website is now available for your perusing and that the first trailer will arrive before February is over:
The official Ghostbusters site is up and running at https://t.co/ibTzv05prD. First full trailer coming around the end of this month. #ghosts

— Paul Feig (@paulfeig) February 3, 2016
The site is a little barebones right now (it has more pertaining to the original film than the remake), but that will probably chance soon enough. However, the news of an impending trailer is the real discussion point here as we still don't have an idea of what kind of tone Feig is shooting for. One of the great joys of the original film is how it blends comedy with genuinely effective horror and science fiction, creating a funny movie with stakes that actually matter. Hopefully, the new film takes that cue from the first movie as it blazes a new and different trail.
Ghostbusters opens on July 15, 2016. Check out a gallery of the new images below.