'Regression' Trailer: This Case Is Bigger Than Ethan Hawke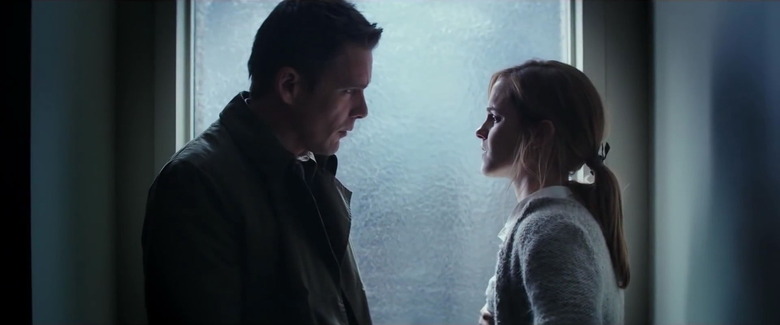 Originally scheduled to open last summer, Alejandro Amenábar's (The Others) thriller was pushed back to this February. The film, which stars Ethan Hawke and Emma Watson, was a promising return to horror for Amenábar — but sadly, it's been met with an overwhelmingly negative response from critics.
Regression opens in theaters this week, and The Weinstein Company has just released another trailer for the film.
Hopefully Regression isn't another Jane Got a Gun for TWC. They dumped that Natalie Portman-led movie in theaters last week, without any advanced screenings and little buzz generated for the project. Like that Western, Regression is directed by a talented filmmaker and stars very reliable actors.
Watson plays young woman who accuses her father (David Dencik) of a crime. Ethan Hawke stars as the detective assigned to the case, but the case turns out to be more than he expected, possibly involving Satanists.
Here's the Regression trailer (via Youtube):
Regression currently has a 5% on Rottentomatoes, an astonishingly low score for a project with this much talent involved, and most critics have remarked the film doesn't sustain its mystery. Amenábar has impressed critics in the past, so the lack of even a strong critical response is disheartening.
The director of Open Your Eyes, The Sea Inside, and The Others has a firm grasp on tension and mood, and another horror movie from him sounded like a return to the chilling scares The Others conjured up. Even if Regression is a misstep from Amenábar, this trailer at least displays some promising elements. The cinematography, especially, is striking. The cold environment in Regression looks like it's affecting every frame and moment.
Hawke has been on a bit of a roll in horror and sci-fi films recently, too. Sinister, Predestination, and Daybreakers – he often elevates and grounds movies like Regression. The actor is capable of rising above the material, which could be the case for Regression, based on the reviews. Since the film is written and directed by Amenábar, though, I'm going to hold onto some hope for his latest picture.
Here's the official synopsis:
Minnesota, 1990. Detective Bruce Kenner (Ethan Hawke) investigates the case of young Angela (Emma Watson), who accuses her father, John Gray (David Dencik), of an unspeakable crime. When John unexpectedly and without recollection admits guilt, renowned psychologist Dr. Raines (David Thewlis) is brought in to help him relive his memories and what they discover unmasks a horrifying nationwide mystery.
Regression opens in theaters February 5th.