Joel Kinnaman Is Apparently In 'House Of Cards' Season 4, Which Apparently Exists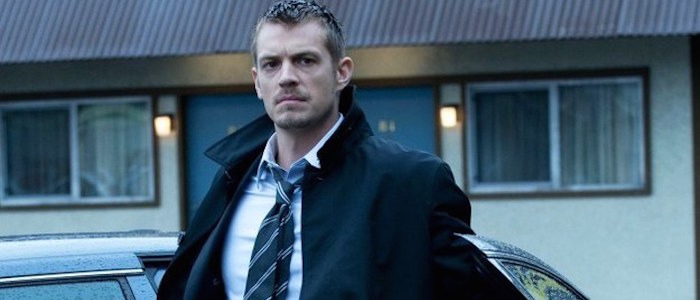 I'm just spitballing here, but what if House of Cards season 4 is really just a big elaborate prank? After all, the latest season of Netflix's flagship series is only a few weeks away and we've yet to see a full and proper trailer. Sure, the streaming giant doesn't have to work too hard to sell this massively popular show, but you'd think they'd want to drum up some hype and give all of the voters, er, viewers a show of confidence after that lackluster third season. A handful of vague teasers won't cut it!
Netflix has now revealed that actor Joel Kinnaman has joined House of Cards season 4, but they don't have a single thing to say about who he is playing, how many episodes he's in, and whether or not he's being cast right now for a minor part or has been filming a larger part in secret. They did, however, release a picture of him in character.
Best known for playing Stephen Holder on The Killing, Kinnaman was able to witness the mighty power of Netflix firsthand when AMC's mystery series found a post-cancellation home on the streaming platform, allowing it time to reach a proper conclusion. Kinnaman was also unfortunate enough to star in the remake of RoboCop, a movie that didn't do any favors for anyone involved. However, he's currently looking to wipe that blemish away with Suicide Squad, where he plays Rick Flagg, the straitlaced military man tasked with herding a team of super villain psychopaths in the general direction of doing the right thing.
But who is he playing on House of Cards? As you can see in the image below, he is playing a clean-cut gentleman who wears a suit and, at some point, sits in a completely blank room to have a conversation with Kevin Spacey's Frank Underwood. In other words, he could be playing literally anybody because that describes just about every character on House of Cards.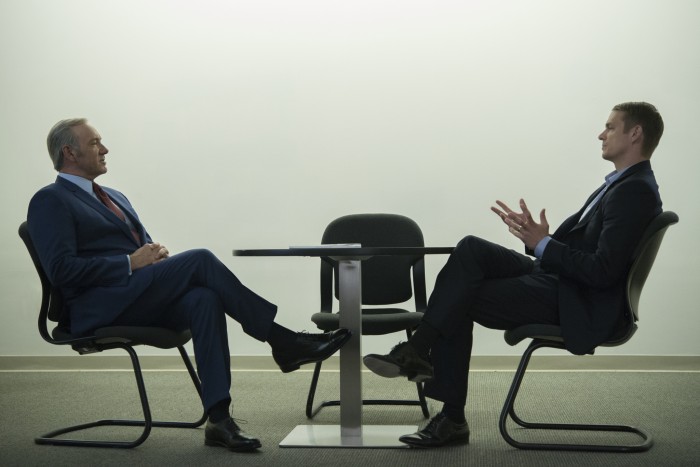 The news of Kinnaman's casting arrives soon after the latest teaser trailer, which showcased 30 seconds of Frank and Michael Kelly's Doug Stamper digging a hole in the woods. It also arrives soon after the news that showrunner Beau Willimon is stepping away from the series after after this season, although Netflix has already announced plans to move on without him. So here's the question for you: will Willimon leave the door wide open for the next showrunner or will he attempt to end his run with a certain amount of closure?
House of Cards season 4 will drop on Netflix on March 4, 2016.