'Twin Peaks' Revival Adds David Lynch Survivor Naomi Watts To The Cast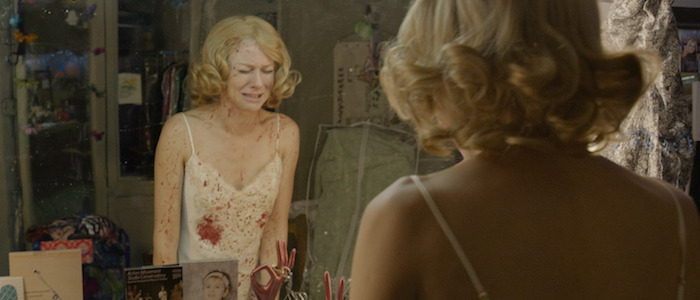 The new season of Twin Peaks is supposedly filming right now, but you wouldn't know it. There is a dearth of solid information out there about Showtime's upcoming resurrection of David Lynch and Mark Frost's iconic series and the network has steadfastly refused to comment on the various cast members, old and new, who have reportedly joined the production. Laura Dern, Robert Knepper, Balthazar Getty, Amanda Seyfried, and Jennifer Jason Leigh have all reportedly been added to the cast, alongside original series stars Kyle MacLachlan, Sheryl Lee, Miguel Ferrer and Sherilyn Fenn, but only MacLachlan has been officially and publicly confirmed to be involved.
And now we have a new name to ponder as Lynch and Frost toil away in secret: Naomi Watts, a newcomer to the world of Twin Peaks but a veteran of Lynch's special blend of weirdness.
Rumors of Watts joining the third season of this iconic supernatural thriller/small town drama first arrived a few months ago, but now, Deadline says that the star of Birdman, King Kong, and The Ring has signed on the dotted line. But don't expect to hear anything officially confirmed anytime soon – Twin Peaks the television production is going to be as secretive and strange and surreal as Twin Peaks the television program, apparently.
Deadline also reports that Tom Sizemore has reportedly also joined the cast alongside Lynch himself. Lynch will be reprising the role of FBI Regional Bureau Chief Gordon Cole, who appeared in six episodes of the original series and the movie follow-up Twin Peaks: Fire Walk With Me.
However, the real "get" here is Watts, an actress who has been nothing but busy and adventurous over the past few years. In addition to appearing in the Oscar-winning Birdman, she has recently starred in St. Vincent, While We're Young, Insurgent, and The Impossible. However, her big breakout role was in 2001's Mulholland Drive, Lynch's dreamy, creepy, and structurally complex drama/thriller/waking nightmare that every movie fan should watch at least once. Watts' work under Lynch is brave and weird and it's exciting that they're taking this opportunity to work together again.
We know that Twin Peaks is currently filming in Washington state. We know that Lynch and Frost wrote every episode together, but we don't know how many episodes there will be (although the rumors suggest "more than a dozen"). We know that Lynch is directing each of those episodes and that the new season won't premiere until sometime in early 2017. And that's about it.
And you thought J.J. Abrams liked keeping a lid on things.