'Green Room' Red Band Trailer: This Is The Punks Versus Neo-Nazis Thriller You're Looking For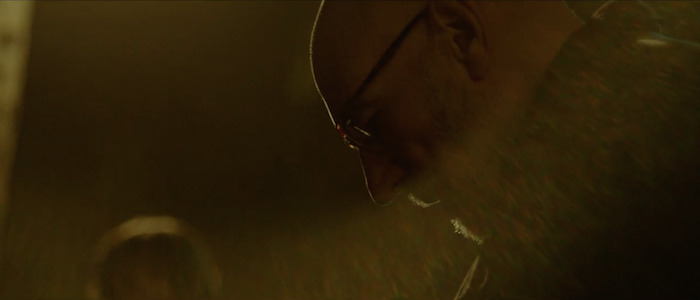 A24 is on a roll. A day after they release
for The Witch, an early frontrunner for one of the best films of 2016, they go ahead and reveal the first full trailer for Green Room, another early frontrunner for one of the year's top films. After making the festival rounds for much of last year, the latest film from director Jeremy Saulnier is a few months away from a theatrical release and this is something you're going to want to see as soon as possible – you'll kick yourself when it becomes one of your favorite movies if you wait too long to see it.
You can watch the new Green Room trailer below.
Green Room is built on an intimate, razor sharp premise: a struggling punk band agrees to take a gig at an isolated venue, learning too late that the operation is a cog in the local white supremacist machine. When they witness a murder, these young and thoroughly incompetent musicians lock themselves in the green room and participate in a brutal, bloody siege with deadly killers who will casually see them dead to hide the evidence. Oh, and Patrick Stewart (yes, that Patrick Stewart) is terrifying and magnificent as the skinhead lead villain of the film.
And while this may be a red band trailer, it's worth noting that this preview really doesn't even touch on how nasty this movie really gets. This is not an experience for the squeamish or the easily disturbed. Which means you really should drag your squeamish and easily disturbed friends to go see it.
Although Stewart grabs all of the headlines for his against-type casting, the ensemble is wonderful all-around, with Anton Yelchin doing fine work as the throughly outmatched protagonist and Imogen Poots solidifying herself as an actress to watch as a scene-stealing mystery woman. However, it's Saulnier regular Macon Blair who gets the real standout performance, once again proving himself to be one of the most promising and unheralded actors out there right now.
Speaking of "promising and unheralded," Green Room is Jeremy Saulnier's third feature film and it's about time we recognize that he's the real deal. His Murder Party is
a hilarious, black comedic delight
and Blue Ruin is one of the most lean and mean and emotionally engaging thrillers in recent years. Green Room falls about halfway between the two of them: it's a crowd-pleasing splatter flick and a morally complex thriller that forces you to confront its violence and the impact is has on its wide range of characters. Why Saulnier isn't turning down major Hollywood gigs left and right is a mystery.
Here's the official synopsis:
GREEN ROOM is a brilliantly crafted and wickedly fun horror-thriller starring Patrick Stewart as a diabolical club owner who squares off against an unsuspecting but resilient young punk band. Down on their luck punk rockers The Ain't Rights are finishing up a long and unsuccessful tour, and are about to call it quits when they get an unexpected booking at an isolated, run-down club deep in the backwoods of Oregon.  What seems merely to be a third-rate gig escalates into something much more sinister when they witness an act of violence backstage that they weren't meant to see.  Now trapped backstage, they must face off against the club's depraved owner, Darcy Banker (Stewart), a man who will do anything to protect the secrets of his nefarious enterprise.  But while Darcy and his henchmen think the band will be easy to get rid of, The Ain't Rights prove themselves much more cunning and capable than anyone expected, turning the tables on their unsuspecting captors and setting the stage for the ultimate life-or-death showdown. Intense, emotional, and ingeniously twisted, Green Room is genre filmmaking at its best and most original. Saulnier continues to build his reputation as one of the most exciting and distinctive directors working today, with a movie that's completely different from his previous, highly acclaimed Blue Ruin, but which is just as risk-taking and even more full of twists. The entire cast deliver first-rate performances, but Patrick Stewart gives a transformative and brilliantly  devious turn as Darcy-elegant yet lethal, droll yet terrifying, Stewart makes the film simply unforgettable.
Green Room opens in limited release on April 15, 2016 before going wide on April 29, 2016.