VOTD: Sundance's 90-Minute Art Of Film Panel With Christopher Nolan And Colin Trevorrow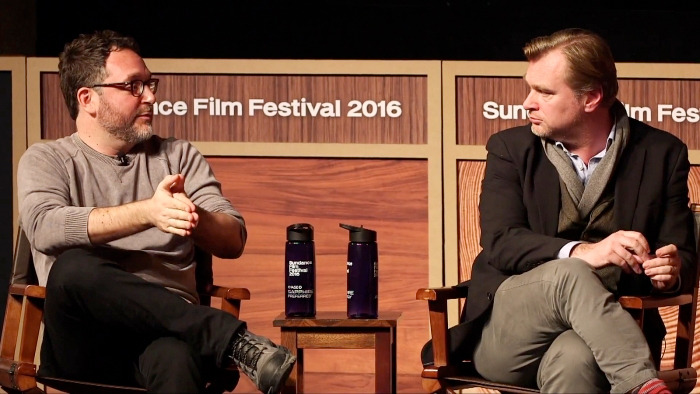 The 2016 Sundance Film Festival is over, and while you'll have to wait a little while to see some of the films that played up in the mountains, that doesn't mean you can't enjoy part of the festival right now. In addition to the films that played at Park City, some filmmakers were in attendance for a series of panels talking about the art of film in a variety of ways, and one panel in particular will be worth your time.
Christopher Nolan and Alex Ross Perry (Listen Up Philip), representing the blockbuster and indie sides of the film industry, sit down for a 90-minute chat about celluloid and their preference for using the physical medium over the digital format. Sweetening the deal are Jurassic World director Colin Trevorrow and Fruitvale Station and Dope cinematographer Rachel Morrison.
Watch the entire Sundance panel with Christopher Nolan and everyone else below.
If you're a film nerd, then you'll love hearing these filmmakers talking about the importance of having children seeing movies that were shot on film, how awful motion-smoothing is for movies, and generally sharing plenty more love for celluloid.
The panel doesn't just stick to the preference of shooting on film over digital, though that talk did lead to Trevorrow confirming that he will shoot Star Wars: Episode IX on film like J.J. Abrams and Rian Johnson before him. The conversation also dives into subjects like film school, piracy and more.
Kicking off Art of Film Weekend, in this celebration of celluloid, we look at film aesthetics, its intrinsic qualities and its appeal to filmmakers who have made the artistic choice to employ film as a shooting format. Since the birth of cinema, artists have found within a thin strip of celluloid film myriad forms of expression and a magical medium through which to tell stories. Join Christopher Nolan (Memento, Dark Knight series, Interstellar), Colin Trevorrow (Safety Not Guaranteed, Jurassic World), and moderator Alex Ross Perry (Listen Up Philip, Queen of Earth).
For all of our coverage on the 2016 Sundance Film Festival, just head right over here.