The Force Awakens Bits: Blu-Ray Release (Sort Of) Confirmed, Ewan McGregor Talks, Matt The Radar Technician Reigns Supreme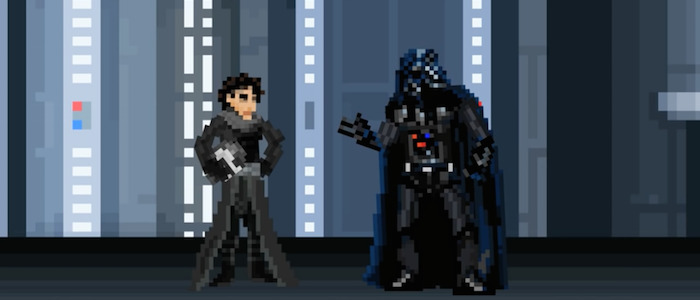 Welcome back to The Force Awakens Bits, your regular source of news pertaining to Star Wars: The Force Awakens. In today's edition:
The release date for The Force Awakens Blu-ray is confirmed. Kind of.
The Force Awakens edges up to a few box office milestones.
A new look behind the scenes of the visual effects process.
Matt the radar technician continues to reign supreme.
Ewan McGregor chats about his The Force Awakens cameo.
What happens when new characters meet their OT counterparts.
A funny thing happened over the weekend on the subject of the Blu-ray and DVD release of Star Wars: The Force Awakens. Rumors have been swirling for some time now that the film would be hitting shelves in early April, but then Amazon went and confirmed all of this by sending out a mass email to everyone who had pre-ordered the disc, letting them know when they should be checking their mail. Naturally, this release date spread across the internet before Disney started politely asking all of the Star Wars fan sites to remove the release date from their stories. In other words, they obviously have a big plan for how and when they want to reveal this release date and Amazon totally jumped the gun and stepped on their toes.
You should be able to own The Force Awakens on the first Tuesday of the fourth month of this year, but we won't actually publish that date until the official press release hits our inbox. Expect a certain amount of fanfare... and expect every retailer to have exclusive box art, unique bonus features, and all other kinds of nonsense to get you (and us) excited.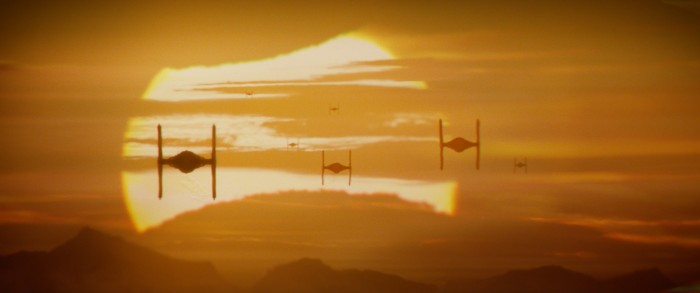 Maybe Disney and Lucasfilm are being cautious with the news of a physical media release date for The Force Awakens because the film is still doing steady business in theaters and is on the cusp of a few milestones. After this weekend, the film found itself the on the verge of a few key moments: with $895 million at the domestic box office, it should cross $900 million any day now, and with nearly $1.1 billion at the international box office, it's only $17 million away from reaching $2 billion worldwide. At this rate, it still has a chance of catching up with Titanic's $2.1 billion worldwide gross, but it looks like James Cameron is going to have the last laugh – even with its record-breaking run, The Force Awakens simply won't have the legs to reach Avatar's $2.7 billion. For the first time ever, the all-time domestic box office champion and the all-time worldwide box office champion will be different films.
Variety has posted a video that takes viewers behind the scenes of the visual effects process on The Force Awakens. Whether you want to know more about the digital effects or the practical effects, this featurette has you covered. Here's a quote from visual effects supervisor Roger Guyett:
What can we do to take that shot and make that shot more interesting? Or more believable?. You want a shot of the speeder running across the desert or something, and then you start thinking, how can you make that better? 'Oh, it'd be fantastic if there was an old piece of X-wing in the foreground; I'll dolly through that.' We're trying to take those shots and make them as exiting and as interesting for the fans as we can.
As much as we enjoyed SNL's Undercover Boss sketch that put Adam Driver's Kylo Ren undercover at Starkiller Base as "Matt the radar technician," we never saw this riff on The Force Awakens' villain catching on quite like it has. In addition to the various T-shirts and custom action figures depicting Kylo Ren's alter ego, you can now buy the character in pin form for $10.99.
SOME KID DRESSED UP AS MATT THE RADAR TECHNICIAN AT DISNEYLAND @radartech_matt pic.twitter.com/6VB70djn92

— Jeff😅 (@ReginaldTheLady) February 1, 2016
Oh, and then there's this kid who went to Disneyland in "Matt the radar technician" cosplay.
As you probably know by know, Obi-Wan Kenobi makes a vocal cameo in The Force Awakens, with his disembodied voice speaking to Rey after she finally comes into contact with Luke and Anakin Skywalker's old lightsaber. We know that this line, "Rey, these are your first steps" was created by melding dialogue from the late, great Alec Guinness with newly recorded dialogue from prequel trilogy star Ewan McGregor, but now we have the whole story thanks to the latter's appearance on Jimmy Kimmel Live:
I recorded a line for it. It was very late in the day. I was waiting for the call to come for two years! I thought maybe they had lost my agent's phone number or something. I got a call just shortly before it was released from J.J. Abrams and he said I'd love for you to be a part of it and love for you to be in it. There's a sequence where we can use a voice, where we hear Obi-Wan Kenobi's voice coming from the distant reaches of the Force or wherever it comes from. And I said yeah, I'd love to be in it. I've just been waiting on your call. I went in, I was able to see some of it before anybody else had seen it, I was very impressed, and I recorded a line for it.
Of course, that whole story sounds a whole lot more charming in video form, where McGregor's Scottish accent is allowed to work its supernatural charms.
Dorkly has made an amusing video that showcases what happens when characters from The Force Awakens have to say when they meet their counterparts from the original trilogy. It peaks when Finn and Lando have a little chat and realize they have more in common than what you'd initially think...