'The Witch' Trailer: And That's Why You Never Play Peek-A-Boo When There's Evil Afoot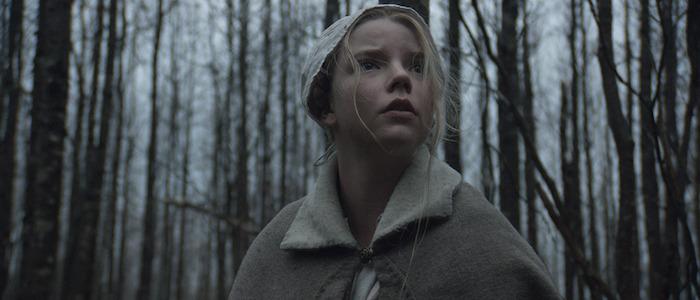 The third (and seemingly final) trailer for director Robert Eggers' The Witch has arrived and hopefully you're sold on this immaculate horror film by now. This new preview is tonally in line with the first and second trailers, only hinting at the plot and characters while leaning heavily on the film's oppressive atmosphere and chilling visuals. And since this movie has atmosphere to spare, why not utilize that and save everything else for when you're in the theater?
I've been eagerly shouting about The Witch to anyone who will listen since I saw it during its festival run last year and I'm afraid that I'm starting to sound like a broken record. But I honestly, truly believe that this is a very special film from a director who is poised to leave his thumbprint on the horror genre in a major way (especially since he's making a new Nosferatu next). The Witch's blend of horror and history, of character and terror, is one-of-a-kind.
Here's that new trailer:
And lest you think that this trailer is giving away anything of importance, know that most of the footage on display here is from the film's first half. Heck, the "peek-a-boo" scene that the trailer is built around occurs much earlier than you'd think – it's essentially the inciting incident of the movie, the awful event that sends this isolated Puritan family down a rabbit hole of pure evil.
There aren't too many laughs to be found in The Witch, but distributor A24 is giving you a chance to have some fun with the film's grim imagery. By visiting Evil Takes Many Forms, you can upload the photo of your choice to have it inserted into a poster for the film, letting you have a permanent reminder that your cat or your mother-in-law or the presidential candidate of your choice is the embodiment of pure, Satanic menace.
Here's the official synopsis for the film:
In this exquisitely made and terrifying new horror film, the age-old concepts of witchcraft, black magic and possession are innovatively brought together to tell the intimate and riveting story of one family's frightful unraveling in the New England wilderness circa 1630. New England, 1630. Upon threat of banishment by the church, an English farmer leaves his colonial plantation, relocating his wife and five children to a remote plot of land on the edge of an ominous forest – within which lurks an unknown evil. Strange and unsettling things begin to happen almost immediately – animals turn malevolent, crops fail, and one child disappears as another becomes seemingly possessed by an evil spirit. With suspicion and paranoia mounting, family members accuse teenage daughter Thomasin of witchcraft, charges she adamantly denies. As circumstances grow more treacherous, each family member's faith, loyalty and love become tested in shocking and unforgettable ways.
The Witch opens in theaters on February 19, 2016. You should go see it on a large screen with a loudest possible sound system.