Tom Hanks And Johnny Depp Are America's Favorite Movie Stars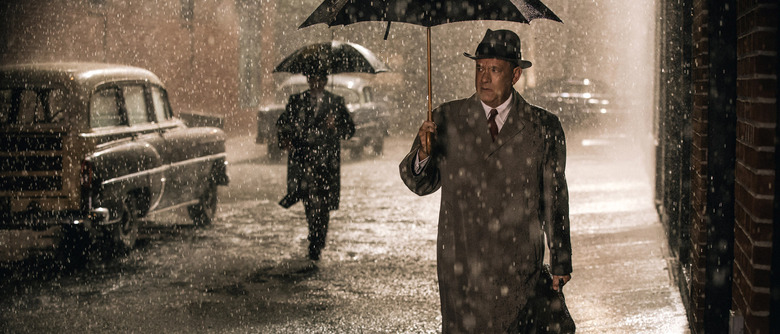 The Academy didn't even think to nominate Tom Hanks for Best Actor this year, despite their overall affection for Bridge of Spies, but in the hearts of Americans he's already secured the #1 slot. According to the new poll, Hanks is the country's favorite movie star, beating out fellow A-listers like Denzel Washington, Harrison Ford, and Jennifer Lawrence.
Which isn't that surprising, really. Hanks is an unquestionably talented actor who does dad movies (Bridge of Spies) and kiddie fare (Toy Story), prestige dramas (Captain Phillips) and bankable franchises (Da Vinci's Code), and even throws the occasional artsy curveball (Cloud Atlas) for good measure. On top of all that, he enjoys a sterling personal reputation — the only gossip you ever hear about Hanks is about how nice he is.
No, far more surprising is who placed #2: Johnny Depp, who hasn't led a solid commercial hit since that last, terrible Pirates of the Caribbean movie.
According to The Harris Poll (via Variety), which surveyed 2,252 U.S. adults between December 9 and 14, 2015, America's favorite movie stars are as follows:
Tom Hanks
Johnny Depp
Denzel Washington
John Wayne
Harrison Ford
Sandra Bullock
Jennifer Lawrence
Clint Eastwood
Brad Pitt (tie with Julia Roberts)
Julia Roberts (tie with Brad Pitt)
Hanks is up four spots from #5 last year, and Depp is up two spots from #2. To make room for them, last year's champ, Washington, has dropped to #3. And last year's #3, Pitt, is now #9 (tied with Roberts). Neither Roberts nor Bullock made the list last year. Meryl Streep and Angelina Jolie both landed in the top 10 last year (at #7 and #10, respectively), but though both had movies out in 2015, neither made the cut this year.
Even more interesting are the Harris Poll's findings about which pictures picked which stars. Depp is reportedly the favorite among women, Millennials, Southerners, and rural Americans, while Wayne is the top pick of men, Republicans, and people over 70. And it seems only natural that Ford should emerge as Gen X's movie star of choice, seeing as they grew up watching him in the Star Wars and Indiana Jones franchises.
But the survey also serves as a helpful reminder that the moviegoing public's tastes don't always line up with those of film nerds on the internet (i.e., us). I know plenty of critics and cinephiles who are sick to death of Depp's schtick — but clearly, there are plenty of people out there who still adore him. (Perhaps because, as the box office figures indicate, they opted not to subject themselves to the likes of Tusk and Transcendence. Smart move.) Meanwhile, internet faves like Tom Hiddleston and Oscar Isaac don't even register here.
What do you think of America's taste in movie stars? Who are some of your favorites?