'Mama' Sequel Moving Forward With 'Starry Eyes' Directors Dennis Widmyer And Kevin Kolsch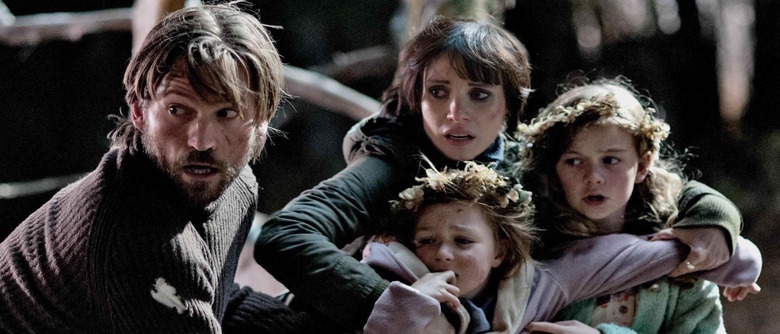 Universal is finally making some real progress on their Mama sequel. Dennis Widmyer and Kevin Kolsch (Starry Eyes) are reportedly in final talks to rewrite and direct a follow-up to the horror sequel. They replace Andres Muschietti, who directed the Guillermo del Toro-produced original.
2013's Mama starred Jessica Chastain and Nikolaj Coster-Waldau as a couple who take in the husband's orphaned nieces, who are nearly feral after being abandoned in the woods almost five years ago. However, the girls bring with them a spiritual force called "Mama." Director Muschietti has said he doesn't see the need for a sequel, but the first film made nearly ten times its production budget so of course there's going to be one.
TheWrap reports Chastain is not expected to return. It's unclear whether this means her character is simply sitting out the next movie, or whether this suggests the film will pick up with entirely different characters. Plot details are under tight wraps for the time being, and no start date or release date has been announced. Seeing as it's already been three years since the last Mama opened, though, we'd expect Universal to want to get the ball rolling sooner rather than later.
Widmyer and Kolsch made their feature directing debut with 2009's Absence, but they're probably better known for their 2014 horror Starry Eyes, which centered on an aspiring actress (Alex Essoe) who pays a steep price for fame and fortune. That film got positive notice on the festival circuit, starting with SXSW. Since then, the duo have collaborated on a segment for the upcoming horror anthology Holidays. They are also attached to direct Exorcism Diaries for Summit.
Muschietti, meanwhile, will be busy with the It adaptation that Cary Fukunaga dropped, and the Harry Houdini biopic The Witch of Lime Street.
Get a taste of Widmyer and Kolsch's work with the Starry Eyes trailer below.