'The Confirmation' Trailer: In Which Clive Owen Tugs On Your Heartstrings And Not In A Violent Way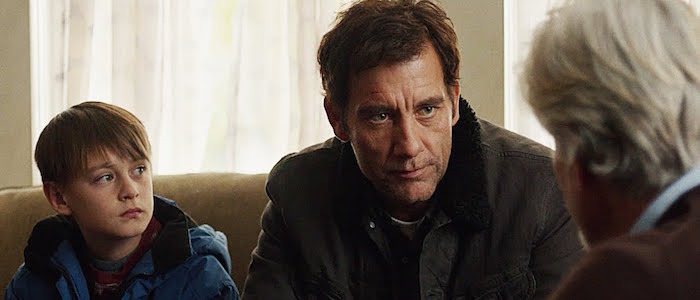 For those of us that remember the days when Clive Owen was on the cusp of serious action hero stardom (remember when he was supposed to be the next James Bond?), seeing the gruff actor in a seemingly warmhearted movie like The Confirmation is a little peculiar. Then again, the past few years have seen Owen going out of his way to showcase various unseen facets of his acting range. I'm glad he never took off as a major movie star because we may not have gotten his fascinating and unsettling Dr. John Thackery, as seen on The Knick. Now, he's trying out the role of the lovable deadbeat dad who tends to pop up in indie comedies so they can teach young boys valuable life lessons.
There aren't too many surprises to be found in the new The Confirmation trailer, but the directorial debut of Bob Nelson looks sweet and nice and stacked with actors we do not mind watching in the slightest.
The Confirmation may be Nelson's first film behind the camera, but he's no slouch. His moving and dryly comic screenplay for Nebraska was rightfully nominated for an Academy Award. With that film on his resume, it's no wonder he was able to recruit so many interesting actors for another slice-of-life story about a father and son. But does he have the same chops as Nebraska's director, Alexander Payne? That remains to be seen.
In any case, this trailer sells what looks like a pleasant, well-meaning movie cut from some familiar but reliable cloth:
In addition to Owen, The Confirmation stars Maria Bello, Patton Oswalt, Tim Blake Nelson, Robert Forster, Matthew Modine, and /Film favorite Stephen Tobolowksy. Newcomer Jaeden Lieberher plays Owen's young son, who will surely learn to love his sloppy rascal of a father during the course of a long and complicated weekend full of odd characters and various misadventures.
Here's the official plot synopsis:
Clive Owen shines in this irresistible comedy as Walt, a down-on-his luck carpenter tasked with entertaining his eight-year-old son Anthony while Anthony's mom (Maria Bello) and her new husband are away. But when Walt's prized toolbox is stolen, a quiet father-and-son weekend turns into an adventure of a lifetime. Aided by an oddball drywall repairman (Patton Oswalt), Walt and Anthony go on a wildly funny search for the thieves—and find something they never imagined: a true family connection.
The Confirmation will have a simultaneous theatrical and iTunes release on March 18, 2016.